(Estorage Website:オーダー家具・壁面収納の専門店 収納ラボ)
Estorage is the most well-known storage company in Japan, headquartered in Aichi, Japan, with display stores in Ginza, Yokohama, Ora, and Nagoya. "Storage can change lives and bring enjoyment to everyone" is Estorage's core value proposition, dedicated to providing customers with customized storage furniture that best fits their daily lives based on each family's living line and lifestyle. Currently, they have 70 employees (including 20 professional designers), with an annual output value of over 650 million yen (about 4.58 million US dollars), and provide more than 6,000 optimal solutions for customers with customized storage needs throughout Japan using the Coohom advanced tools. Estorage hopes to expand the custom storage market and develop infrastructure so that all families in Japan can easily obtain custimized designed furniture, bringing comfort to more people's lives.
Japanese Market Background
Although the quality of storage space in a Japanese family is a determining factor in the comfort of life, it is often overlooked in the design and decoration stages. In fact, according to a survey of 12,152 Japanese interviewees on their satisfaction with current home storage, only 20% of them were satisfied, while 80% were dissatisfied with their storage space and unable to find temporary solutions. One of the reasons for this phenomenon is that people can only understand their true storage needs when they actually live and use the space. In recent years, the size of Japanese houses has become smaller and there has been a shortage of wood supply, which has led to a decrease in the importance placed on cabinet storage needs during the planning stage. Therefore, the only way to fundamentally solve these problems is to create customized storage furniture tailored to the specific needs of each living characteristic and lifestyle. However, there are few companies throughout Japan that provide such services. In response to this, Estorage proposes customized furniture and wall cabinets that combine
functionality and design, as well as improve the living environment, to create a more intelligent and comfortable living space for each customer.
How to cooperate with Estorage and Coohom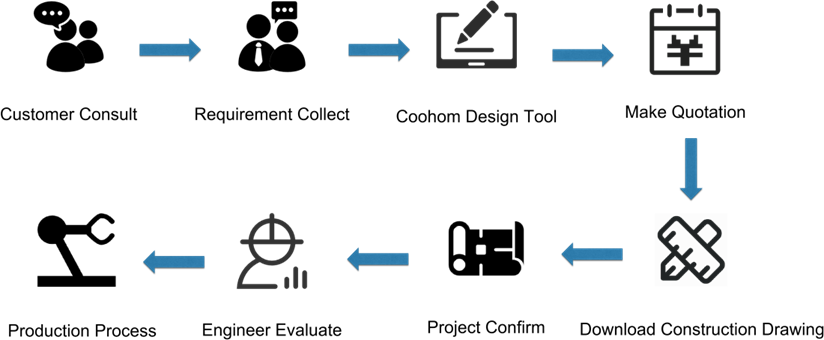 When a customer with customized storage requirements enters the Estorage showroom for the first time, the designer will spend 3 minutes to introduce how Estorage can help them optimize storage design and the overall workflow through Coohom's design tool. After the customer understands Estorage's capabilities, the designer will communicate in detail about their storage requirements and any inconvenience during current storage. To better understand the customer's needs and what they usually store, the designer usually shares a list as a reference for the content, in order to more comprehensively understand them. The designer then begins to layout the room from scratch based on the size of the customer's room, layout preferences, expected functionality, and stored items.

The designer typically prepares 2-3 design options for the customer in Coohom, and the customer will select the best design which is best suited for them from the beautifully rendered images. Based on the chosen design, the designer will export a pricing list and construction drawing in Coohom. Then, the customer will take the drawings home and measure and compare them with the actual dimensions of their home. Once the final design meets the customer's approval, Estorage will arrange for professional engineers to conduct on-site measurements and feedback on the final renderings and construction drawings to the customer. After confirmation, the customer can deliver an order for production at the factory.

By Building Model Catalog, Project Cycle Was Shortened From
2.5 Months To 1.5 Months
"It often takes 2.5 months from designing for customers to entering the production process."
In Estorage's original sales and design process, two software programs – CAD and Homag ix are essential. The former is used for designing, while the latter is used for production. The seemingly simple connection between these two software programs actually involves a lot of repetitive and low-reusability work. Designers often need to complete the design in CAD, and after the customer confirms the construction drawing and rendering, they still need to recreate it in Homag ix before entering the production phase. Any minor changes will face overall adjustments, such as changing the construction drawings, re-rendering images, and recalculating quotations, which greatly reduces the overall design efficiency and lengthens the project cycle. In terms of Estorage's project team allocation, each order will be equipped with 1-2 designers to participate in the entire process, which increases labor costs and reduces the input-output ratio.
In response to the characteristics of the Japanese custom storage cabinet market, which requires increased storage space without increasing living space and causing a feeling of oppression due to small per capita living space. Estorage's product model library is based on basic storage cabinet models, from which various transformable cabinet styles are derived, with many cabinet models and hardware pieces that allow designers to customize structure and size. In addition, the model catalog includes hundreds of different materials such as single panels, natural wood veneers, and laminated panels, as well as various handle and door shapes. However, if designers need to remodel the basic model for different clients, the flexibility of traditional models decreases, reducing design efficiency. To address this issue, Coohom engineers helped Estorage build its enterprise catalog using parameterized models in the company's backend. By building the basic model and hardware pieces and using parameterization tools to give each cabinet a unique code and conversion formula and value mode, panels, cabinets, and hardware can be parametrically matched. For example, when setting hinge usage rules, a large number of formulas are required to automatically calculate which hinge should be matched under different usage conditions. Coohom engineers worked closely with Estorage designers to transform customer requirements into catalog logic. Allowing designers to flexibly match product models in design tools, while also giving designers more customization space to further meet customer needs.
The construction of the enterprise catalog not only facilitates designers to quickly complete customer solutions within design tools but also accelerates the integration of Homag ix into the production process. Repeating designs in both design and production tools undoubtedly doubles the cost for companies, whether in terms of labor or time. After the Estorage enterprise library was built, designs created in Coohom can be directly restored in Homag ix for production through panel docking and recognition of JSON files. That is, the code is set for basic panels in both Coohom and Homag ix, with each panel corresponding to a unique code. When designers use a cabinet model made of these panels to complete their plan in Coohom, they can directly export the JSON file with specific parameters and import it into Homag ix for production information recognition.
High Quality And Efficient Delivery, Zero Fault Tolerance In Production Integration
In the original Estorage integration method, many designers frequently made mistakes due to a lack of understanding of model processes, and much of the information relied on hand- drawn or textual descriptions, resulting in a high error rate. Both CAD and Homag ix have no process restrictions, such as reminding designers which hardware to use under what circumstances, as well as material and size restrictions. These process problems in production are often fatal and can cause irreparable losses. In Coohom's advanced tools, various hardware, material, and size limitation ranges are automatically standardized for designers through parameterized formulas, anticipating predictable production issues and errors. With a 0% error rate, production efficiency is improved while ensuring timely delivery.

In addition, making quotations for customers is also a big challenge for designers. The original listing process takes about 2 hours and requires detailed confirmation of the quantity, size, and price of doors, drawers, materials, countertops, and hardware. Because there are many cabinet models with significant variations, any small change in cabinet size can lead to different hardware requirements, and different storage cabinets may have different price calculation methods, making quote accounting difficult and prone to calculation errors. After using Coohom's custom quote system, Coohom engineers preset calculation formulas based on the customer model's calculation needs, and prices for cabinet models, materials, hardware, etc. are automatically matched according to the formula. After Estorage designers complete their designs in the frontend design tool, the quote list can be automatically generated and exported with one click. Meanwhile, Coohom's custom design tool supports the real-time display of the quote list, which greatly empowers order sales. From generating the quote list to displaying or sending it to customers for confirmation, it only takes 5 seconds.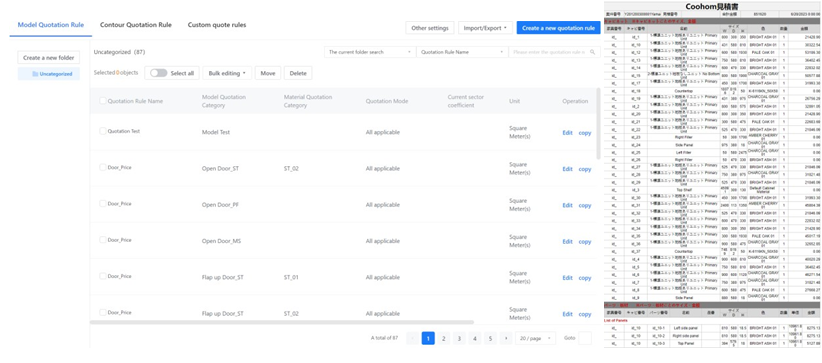 100% Use Of Coohom Design, Making a Splash In The Japanese Market For Custom Storage Solutions
Coohom's custom design tool provides immense efficiency support to Estorage throughout the sales chain by addressing pain points related to rendering and construction drawing. As is well known, due to the small average living space per person in Japan, many Estorage customers are more concerned about the integration between the internal measurement of storage cabinets and the products they need to store, which is why it is essential to increase storage space without adding to the feeling of living space oppression. Every confirmation made by designers and clients may face numerous adjustments regarding minor details such as the height of storage cabinets, shelf positions, and door opening direction. Even such subtle adjustments require an additional waiting period of 2-4 days for customers to receive the adjusted construction drawings and rendered plans. Coohom takes pride in its rendering ability, supporting 16K high-resolution rendering that can produce high-quality results in just 3-5 minutes, greatly helping Estorage's designers meet customer demands by immediately displaying the proposed plan's effects.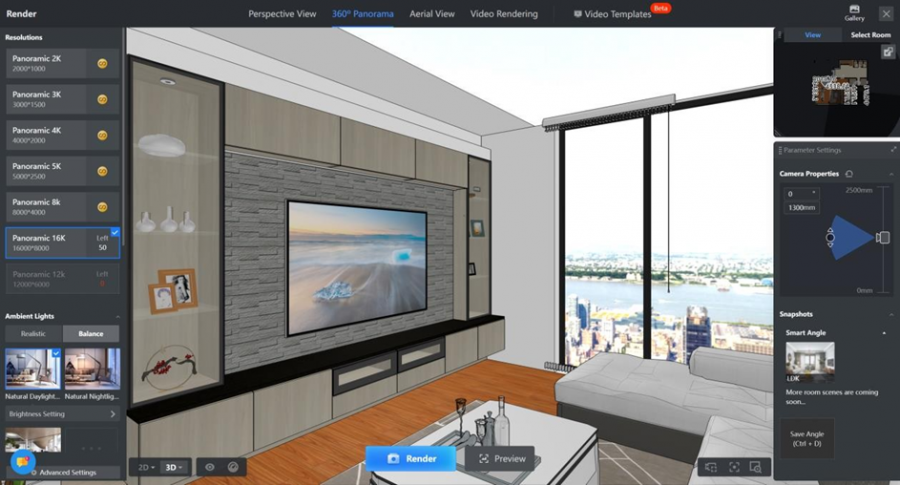 Moreover, Coohom's design tool supports the automatic generation of construction drawings, and when clients make changes to their design proposals, the construction drawings will be automatically adjusted without the need for additional drawings. There is no need to adjust design proposals between two different software systems. Instead, only corresponding parameters need to be adjusted in Coohom, with the construction drawings synchronizing with the design updates and can be re-downloaded. Coohom's real-time design and rendering capabilities have made it Estorage's closest partner, significantly enhancing design efficiency and customer satisfaction, even shortening waiting times and decision-making cycles, empowering business sales.
The Japanese custom furniture market presents enormous opportunities and potential. As demand for personalized and sustainable furniture continues to grow, raising enterprise core competencies while providing differentiated services to meet each client's customization needs has become critical for every enterprise's core competitiveness. Whether it is to help businesses establish libraries that assist in production, mitigate existing design risks, or address issues related to rendering speed and effects from a customer standpoint, Coohom endeavors to help Estorage maintain its position as the No.1 enterprise in the Japanese custom storage market by becoming an indispensable partner, both now and in the future.
Contact sales@coohom.com to learn more about our solutions.
Contact marketing@coohom.com to get partnerships, and share more insights.
Social Contact:
In
2d & 3d designs, 3d download, 3d lighting design, 3d lighting solutoins, 3d modeling, 3d visualization, 3Drendering, api integration, AR, attic, Attic Design, autocad, autodesk revit, best design in america, bohemian, business partner, CAD design, construction drawings, Coohomdesign, CoohomInspiration, customized design, cylindo, design education, design software, design university, european, FinancesOnline, flos, foyr, Free 3d models, google design, high point, home decor, homebyme, homestyler, hpmkt, hpmkt2021, inetrior design, interior design, kitchen & bath design, minotti, moroso, naver, PhotoStudioGallery, planner 5d, Realistic, Rendering, rendering settings, rendering templates, salone del mobile, shopify design app, sketchup free, south korea interior design, space decoration, Trade Show, tropical design, VR, wooden beam
Source: https://www.pexels.com/photo/simple-workspace-at-home-6476588/ In today's fast-paced digital landscape, the convergence of technology and design plays a pivotal role in shaping the...