Coohom not only supports home decor and furniture, and kitchen & bathroom markets, but also gym and fitness environments! Coohom successfully embedded it's powerful 3D visualization and interior design services into the decoration design of public spaces, like gyms. Via Coohom's API integration, SHUA Fitness is empowered to carry out all digital designs and greatly improve their sales performance within only 3 months.
When fitness is integrated into digital rendering effect, the visual impact is surprisingly well! As a world-leading cloud-based design software, Coohom continues to play a major role in the digitalization of home furnishing brands, and has expanded from home decor industry to the full-space sections, such as public decoration, and real estates.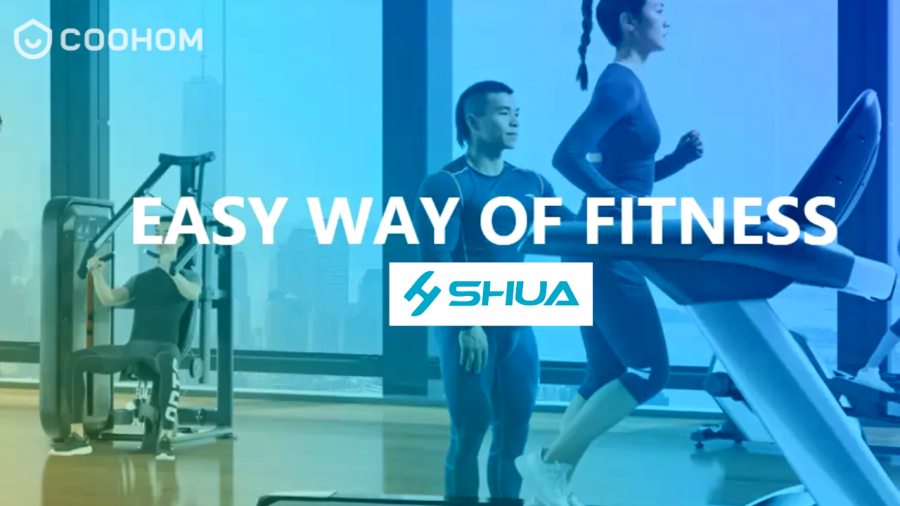 SHUA Fitness, a leader in manufacturing innovative fitness equipment, was founded in 1996 and listed on Shanghai Stock Exchange Main Board in 2020. Our company has four manufacturing bases and two operating centers in China, covering 450,000 square meters and over 1,000 employees. SHUA Fitness has established nearly a thousand online and offline sales and service integration channels, with its global business covering over 70 countries and regions, such as Europe, America, the Middle East and Southeast Asia. SHUA means vitality and health. It expresses the desire of offering professional fitness equipment and idea of bringing health and happiness, S for specialization, H for health, U for utility, A for advancement.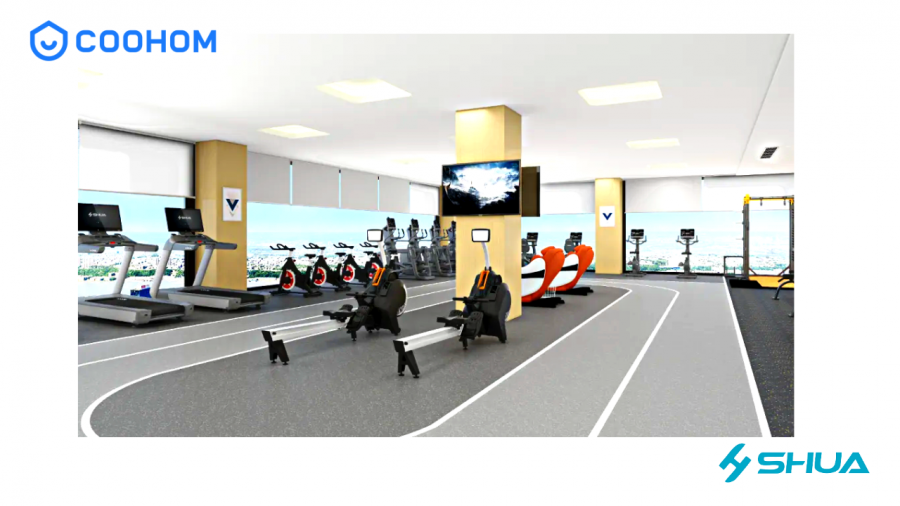 Coohom Realizes Imagination for Not Just Furniture Industries, Fitness As Well
Via Coohom's highest possible rendering effect, SHUA Fitness is able to target the high-end system society, there was one competition that SHUA Fitness was trying to win over a project of developing the fitness equipment for a national venue, and they won undoubtedly due to Coohom's real-time product marketing display solution.
Given this story, both Coohom and SHUA Fitness realized that 3D visualization and interior design capabilities can not only support the furniture industries, also every spatial venues possible. Coohom's leading digital marketing solutions and API improve the production and the operation of any commercial processes, it's a game changer, " What You See Is What You Get ".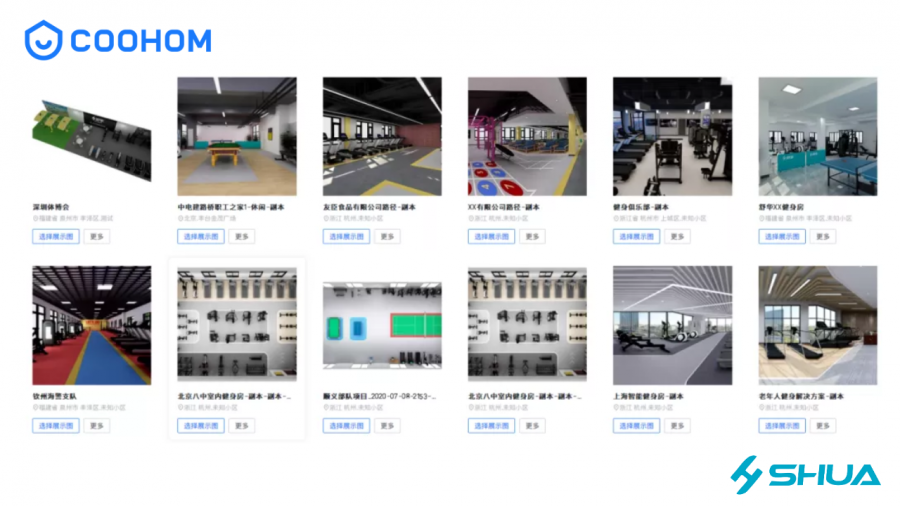 3D Visualization As Digital Empowerment to The Improvement of Business Efficiency
Ever since the first strategic cooperation of Coohom and SHUA Fitness in 2018, the sales conversion rates of its treadmills, spinning bikes, dumbbell rack, and other bulky fitness equipment grew by 55% month over month, given that SHUA Fitness was able to take the lead in the gym industry to innovate the product experiences for all the customers.
Coohom's exceptional construction drawing feature also helped SHUA Fitness finish their floor plan designs professionally and quickly, as most design software doesn't support the real-time review function, which you can check your 3D design, and how it looks like in the CAD file or any construction format, so that, the contractor and the you won't have any redundant conversations whatsoever, it's certainly more cost-effective, and less time-consuming.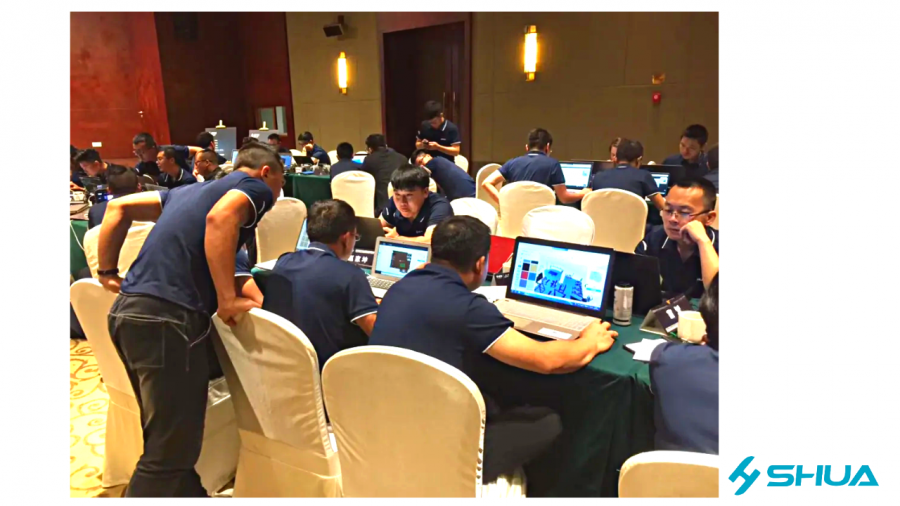 Experience The Rapid Sales Growth via Powerful 3D Design Solutions
While more and more sport enterprises are focusing on the fitness section, the market demands are also skyrocketing, nowadays people like to go to the gym to work out, which is great for the fitness businesses, but it's very competitive, so which company gets to provide the most appealing marketing exhibit wins the race, and take the customers!
With Coohom's outstanding E-commerce API integration, which includes white label, 3D modeling service, 3D viewer & AR, virtual showroom, and more, SHUA Fitness doesn't have to worry about product marketing anymore, as Coohom provides end-to-end business solution, from the initial 3D product modeling, to the final quotation and construction drawings, SHUA Fitness optimizes the whole production process, and the sales activities, to better manage all the dealers around the world.
Dedicated 3D Design Training System Established for All Dealers, and Create A Digital Operation System
Coohom successfully empowered SHUA Fitness to form a complete and smooth internal operation and management systems from the HQ to every dealer store, not just for internal optimization, SHUA Fitness also maximize its marketing strategies for product and brand awareness, now in mainland China, if you ask someone about what's the signature brand of fitness equipment, they'd all say SHUA Fitness with no doubts.
Interactive, intuitive, and integrated are the 3 core values of Coohom's product, the reason why Coohom is able to outperform other 3D design software is that Coohom's 3D features are not only easy to use, also incredibly advanced, it's for all industries, though mainly focuses on home decor and furniture, and kitchen & bath filed for the time being, however, give the story shared, you'd know that Coohom is for everything that requires 3D visualization and interior design, for better 3D content management, for better 3D product presentation, for better sales operation, Coohom is all prepared to take you to another level of E-commerce business.
Social Contact:
LinkedIn | Facebook | Instagram | Twitter | YouTube
Media Contact:
>>> Schedule a DEMO!