In 2022, what is the finest home design software? The top 15 are listed below.
Whether you want to conduct your renovations or pay specialists to perform them for you, you must be able to communicate your ideas, which home design software may help you with.
It is critical for you to explain your thoughts and project what you have in mind as a professional. A house design software program will assist you in visualizing your ideas and presenting the design to all project participants.
Sketchup
AutoCAD
Revit
3dsMAX
Blender
Homebyme
Planner5D
Roomstyler
Smartdraw
Roomsketcher
Ikea Home Planner
Houzz
Sweet Home 3d
Floorplanner
Coohom
For any interior designer, Coohom is a terrific tool. It's simple to use, and there's a wide range of furniture to suit any aesthetic. It includes easy-to-use floor planners, a built-in AI decorator, a huge amount of models, and complete virtual tours. The 3D rendering process is rapid and provides clients with high-quality photos. Coohom sped up the process for interior designers. You have complete control over the interior and external design of your home. The 4K renders have wowed several clients. Streamline your interior design process. In minutes, you can create photo-realistic renderings. In one click, create an immersive 3D walkthrough. Rendering is as lifelike as possible. Interior design in 3D.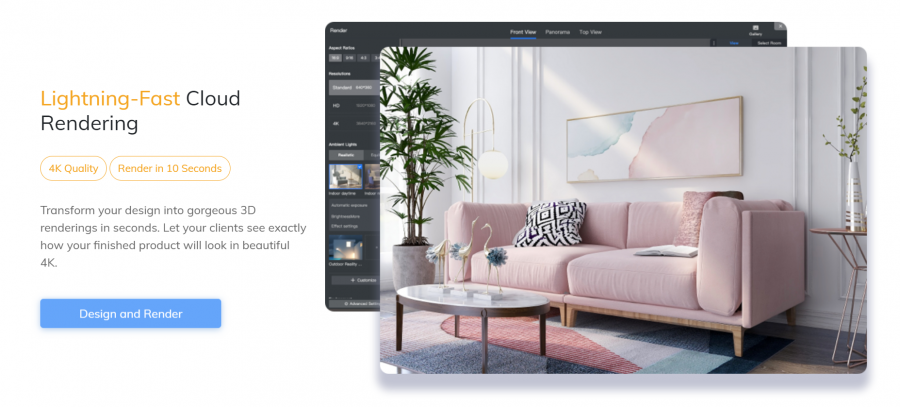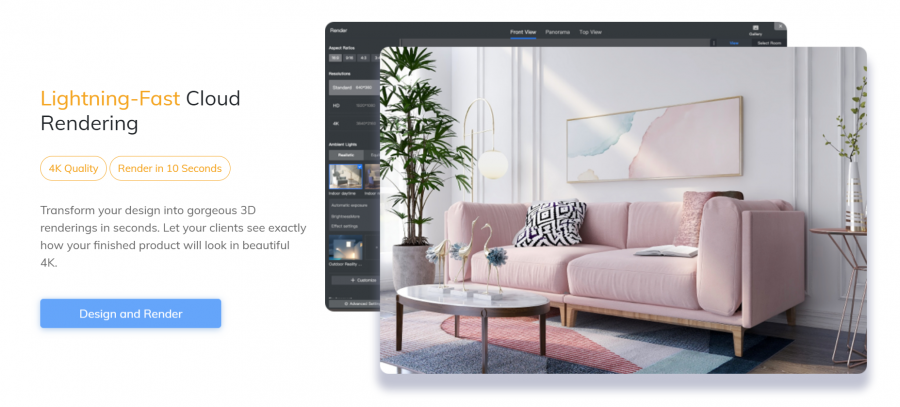 Coohom is a major global SaaS company that helps designers, retailers, and manufacturers follow work practices that have been shown to increase efficiency and improve digital conversion rates. Our customer-driven digital suite enables our partners to realize their visions.
Pros:
Easy to use floorplan for both amateurs and professionals
Lightning-fast rendering in 10 seconds
Huge model library and powerful features such as AI decorator
Access to an online community to learn
Cons:
Limited access to high res renderings
More 4K rendering available with Pro subscription
Sketchup
Sketchup is another popular interior design program. Sketchup is a professional and useful 3D design program. Even for specialists, the interface is rather sophisticated and takes some time to get used to. For a powerful 3D modeling experience, professionals use Sketchup.
You can make a home design and visualize it in 3D to get a better understanding of how much space you'll need. There is a free version, but if you want to access all of the professional features, you'll need to subscribe.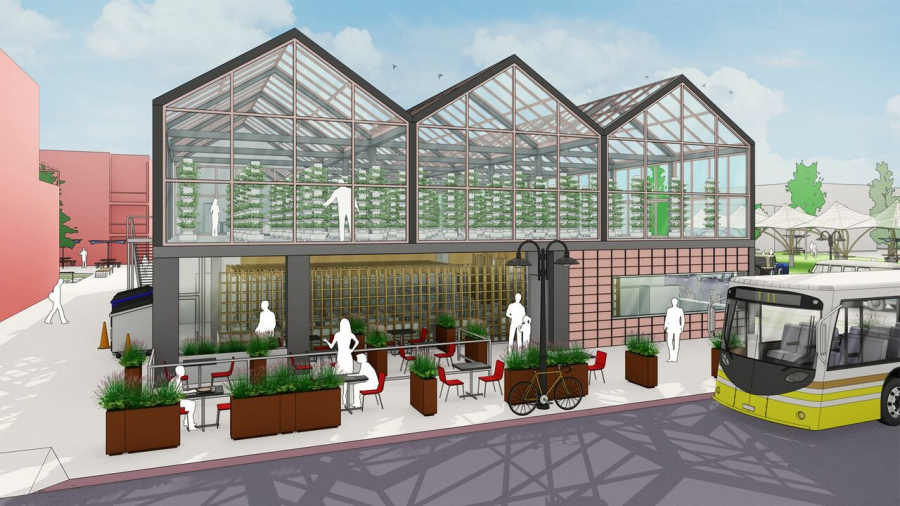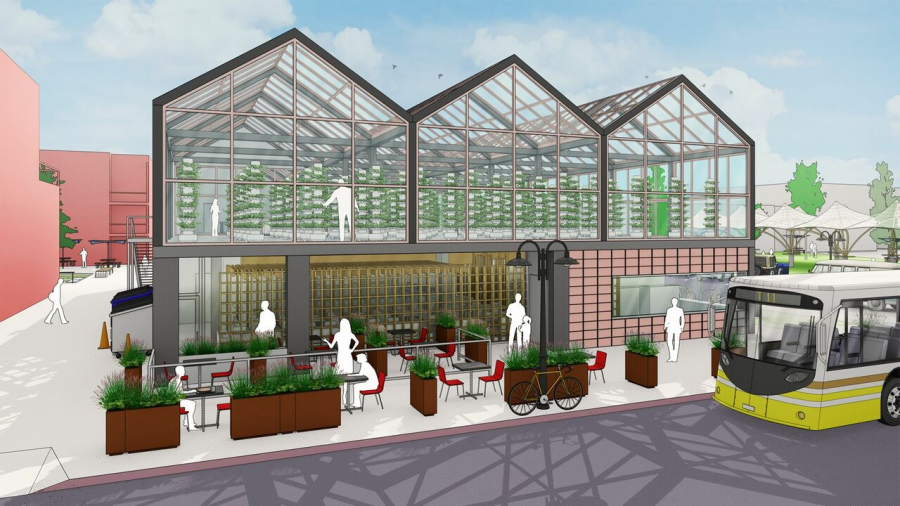 Pros:
Extensive library of models
Cons:
Challenging to learn for beginners
Pro subscription is expensive
Requires some 3D modeling skills
AutoCAD
You've probably heard of AutoDesk if you're interested in interior design and other design applications. This technology company is well-known for developing a variety of design tools that you can use to put your design ideas into action for your own house as well as for your clients.
AutoCAD is a 2D and 3D software for interior designers. It is well-liked by architects and interior designers. However, it has shone brightest in the fields of graphic design and video games.
When it comes to AutoDesk interior design software, you can use Revit for your interior design trends and ideas. You can simply use this to wow your clients if you are a working interior designer with experience utilizing design tools and software with CAD and CAM skills. Revit, like other Autodesk design software, is pricey, but it comes with additional features.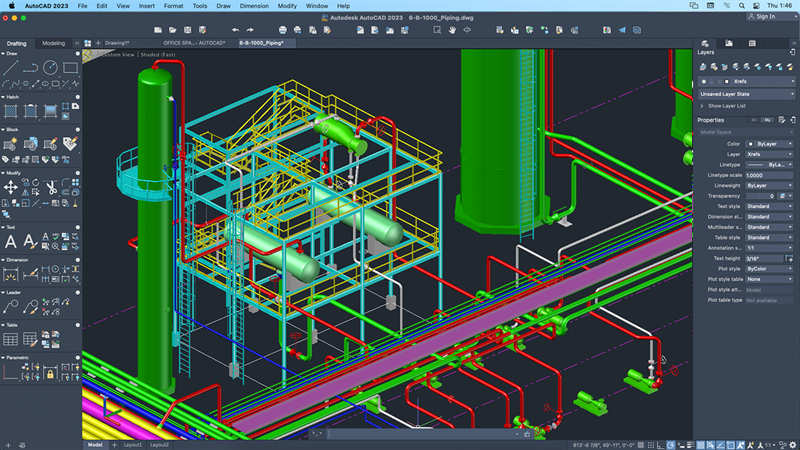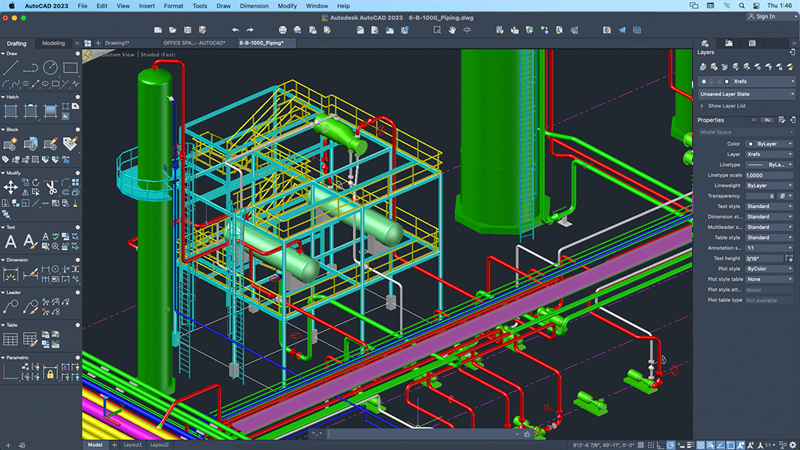 Pros:
Professional-looking images
Cons:
Might be challenging for beginners
Requires some 3D modeling skills
Need to use a separate tool or plugin for getting renders
Revit
When it comes to AutoDesk interior design software, you can use Revit for your interior design trends and ideas. You can simply use this to wow your clients if you are a working interior designer with experience utilizing design tools and software with CAD and CAM skills. Revit, like other Autodesk design software, is pricey, but it comes with additional features.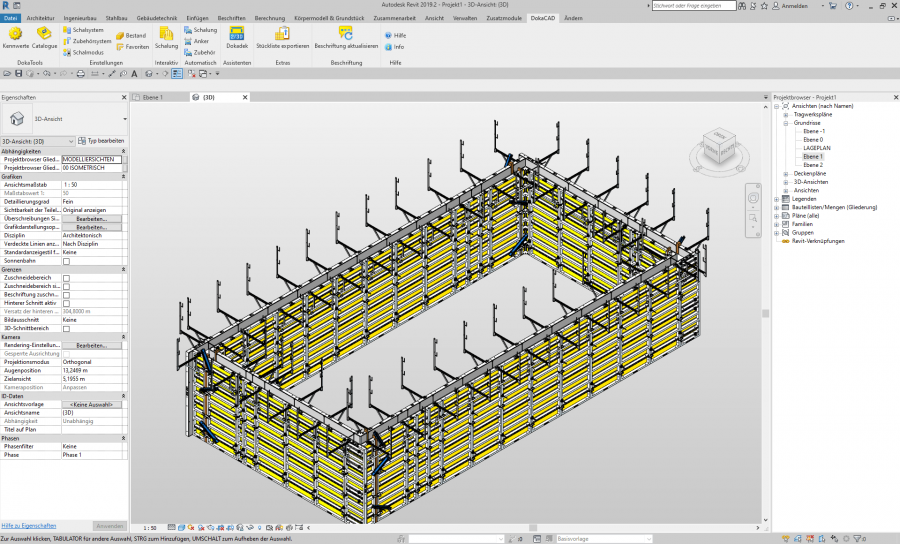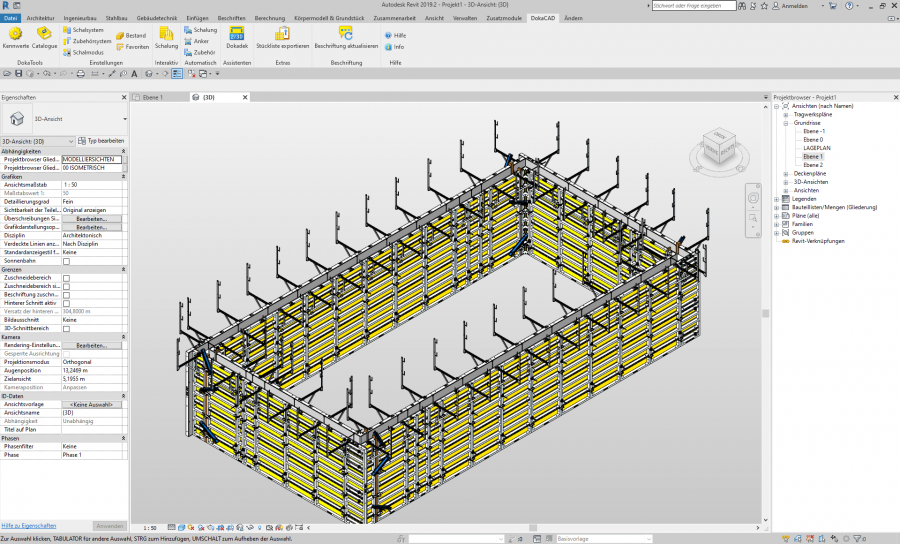 Pros:
Professional-looking images
Cons:
Difficult to handle for beginners
Requires some 3D modeling skills
Need to use a separate tool or plugin for getting renders
3dsMAX
Autodesk has produced a plethora of high-priced interior design tools to aid budding interior designers. Most of their design software is more expensive than that of their competitors, making them a difficult choice for aspiring interior designers and beginners, as well as homeowners and real estate speculators.
These design programs, on the other hand, are popular among professional interior designers with a lot of experience. The amazing 3D visualization, combined with the capacity to create simulations, 3D rendering, space planning, and other features, can make you gasp.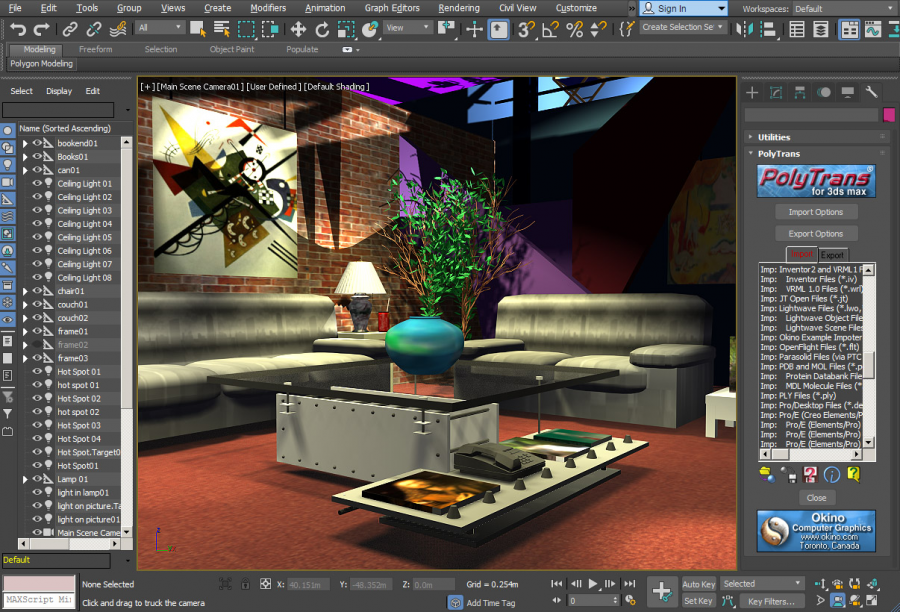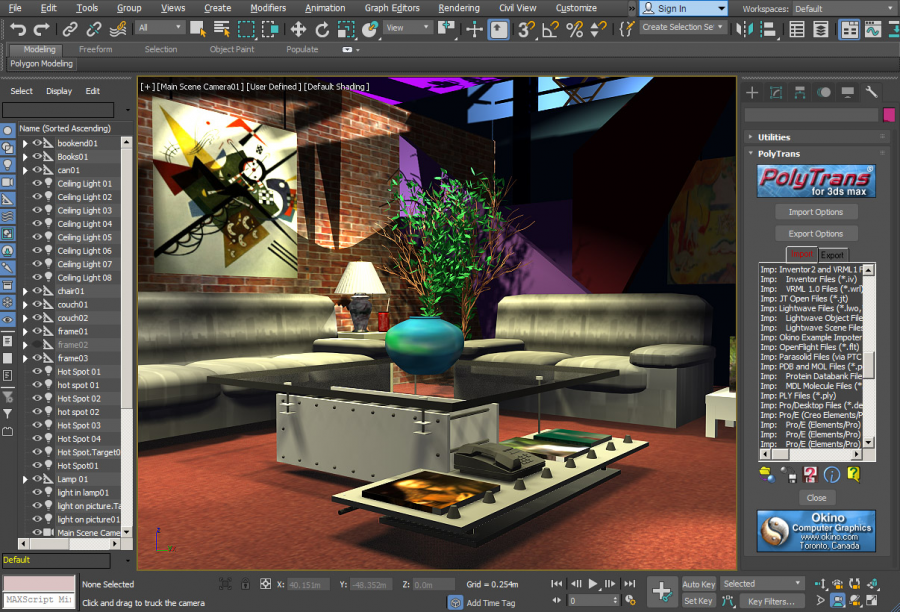 Pros:
Professional-looking images
Cons:
Over-priced subscriptions
Blender
Blender is simple to use and includes 3D rendering, photorealistic animations, simulation creation, and other capabilities for a real-time effect. Isn't it fantastic to have a high-resolution 3D representation of your design concepts? With a little effect, you can see your room layout, space planning, and all of your design ideas.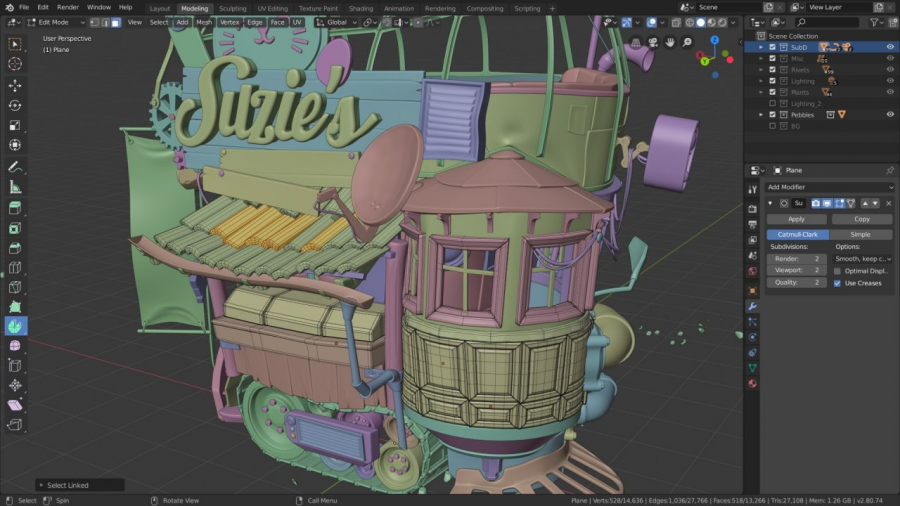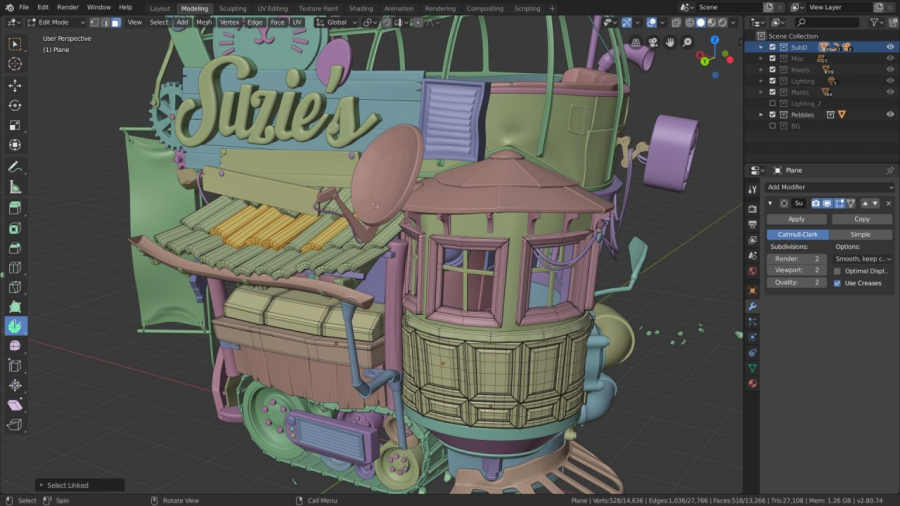 Pros:
Professional-looking images
Cons:
Not a professional interior design software
Need some knowledge base for modeling
Homebyme
HomeByMe is a web-based tool that lets you build beautiful, lifelike renditions of your designs to see how they'll look in each space. 3D visualization and 360° virtual tours are created with this 3D space planning solution.
Many branded goods from the large design inventory can be used to embellish your interiors. There are thousands of colors from nine different manufacturers to choose from in addition to generic wall colors. You can only use a certain amount of high-definition photographs in the free version, but you can use an unlimited number of lower-quality images.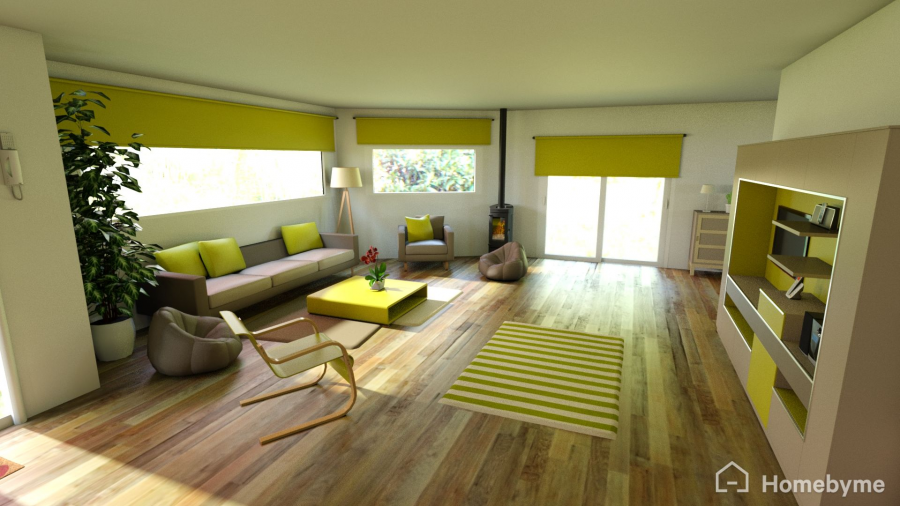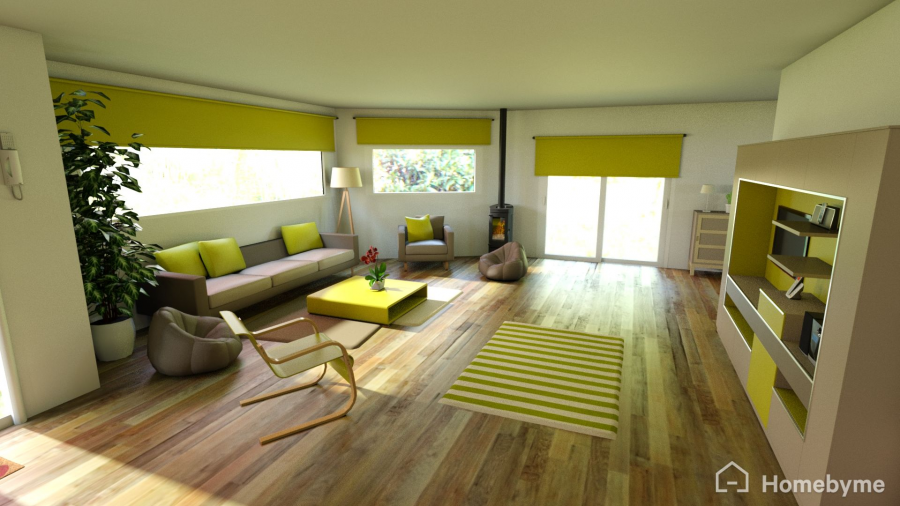 Pros:
Easy to use without a lot of experience
Access to branded tools and décor items
Cons:
Limited number of HD rendering
The free version only gives you three projects
Planner5D
This design software is now quite lovely. This is a wonderful interior design program for you if you are an avid designer or enjoy gorgeous home designs. It can generate floor plans, generate a 3D rendering of the designs, and use the different design tools available to us.
There are over 5000 items in the inventory, and you may personalize each one with different colors, textures, and patterns to make something unique.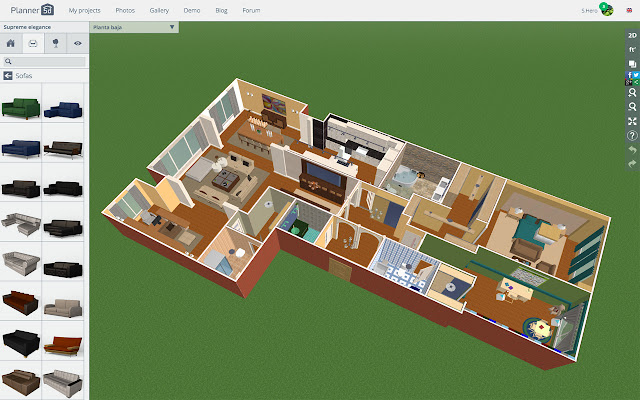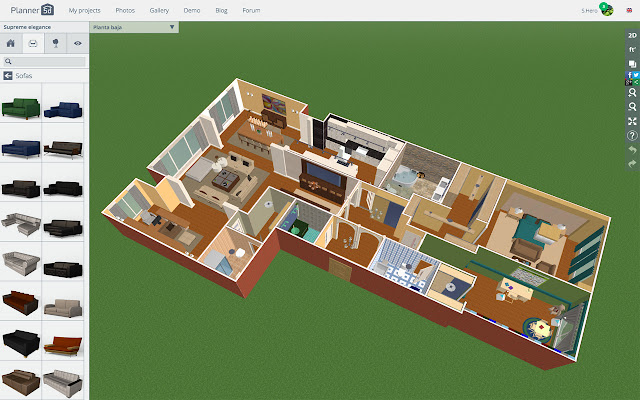 Pros:
Easy to use for beginners
Cons:
3D rendering is available at a premium
Roomstyler
Roomstyler is a user-friendly 3D floor planner and design application for non-professionals. You may quickly create a 2D floor plan using an extensive library of built-in templates, then adorn it with furniture from well-known companies from a list of accessible possibilities.
Switching between several design modes and adjusting anything in the area is simple thanks to a user-friendly interface. Floor plans for individual spaces, such as bathrooms, kitchens, and outdoor seating areas, as well as studio apartments, are available. Everything can be customized in terms of color, size, and positioning. Add walls and windows to instantly see the result in 2D and 3D.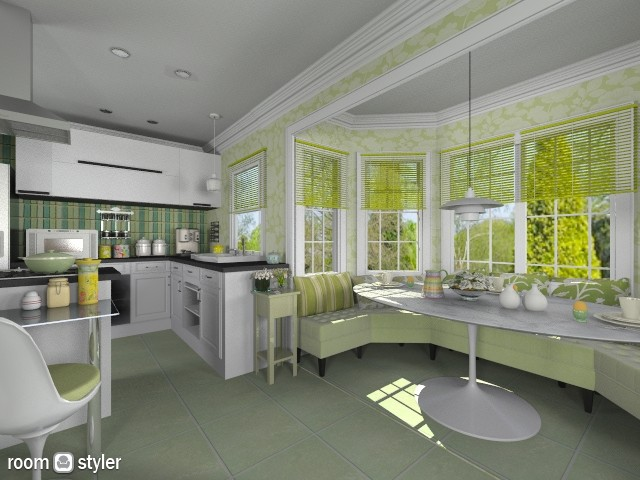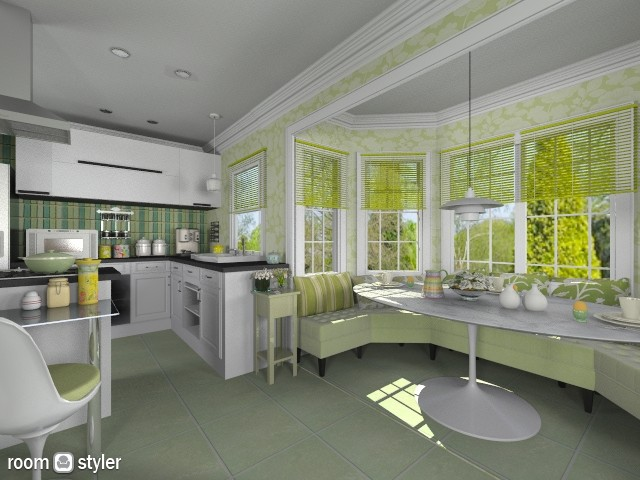 Pros:
Cons:
3D rendering is very slow and inefficient
3D capabilities are not as great
Smartdraw
SmartDraw is a diagramming software that includes flow charts and house design tools, among other things. It's appropriate for amateurs, DIY enthusiasts, and industry pros, and it includes customization templates for cabinetry, fixtures, countertops, and decor to help you get the appearance you want.
Using automated spacing, scaling, alignment, and color schemes, you may build architectural diagrams. There are also thousands of templates and floor plan examples, as well as a large assortment of furniture, cars, and building supplies. You can also use your own materials or things in your designs.
Pros:
CAD capabilities that are extremely powerful
Syncs with Google Calendar
Cons:
Beginners may find it difficult
Free trial period is limited
Roomsketcher
It's a design tool for designing floor plans and visualizing rooms in 3D, as the name implies. It is used to design business and residential areas and is available both online and as an app. RoomSketcher primarily serves the real estate industry and interior design firms. Designers can produce 2D and 3D floor plans, as well as 3D images and 360° views of rooms, using the platform. Users can upload blueprints and sketches to construct their own floor plans or use them as a service.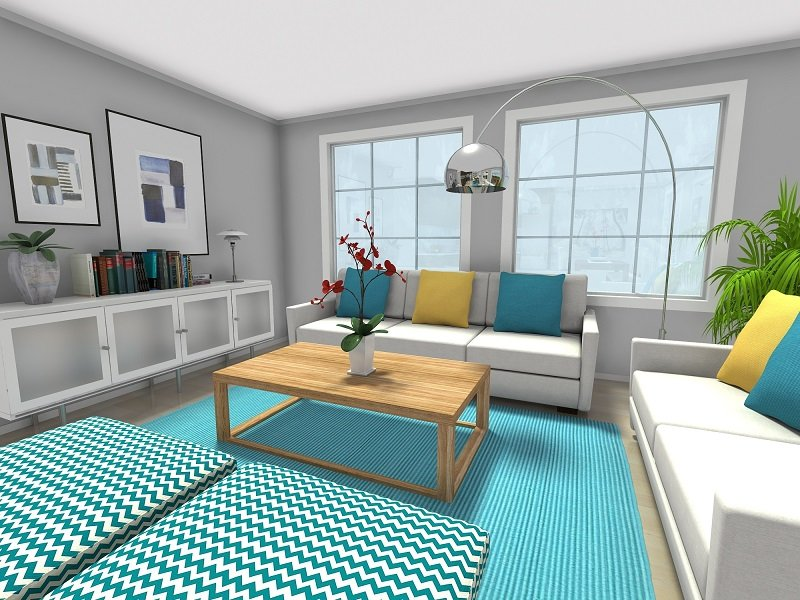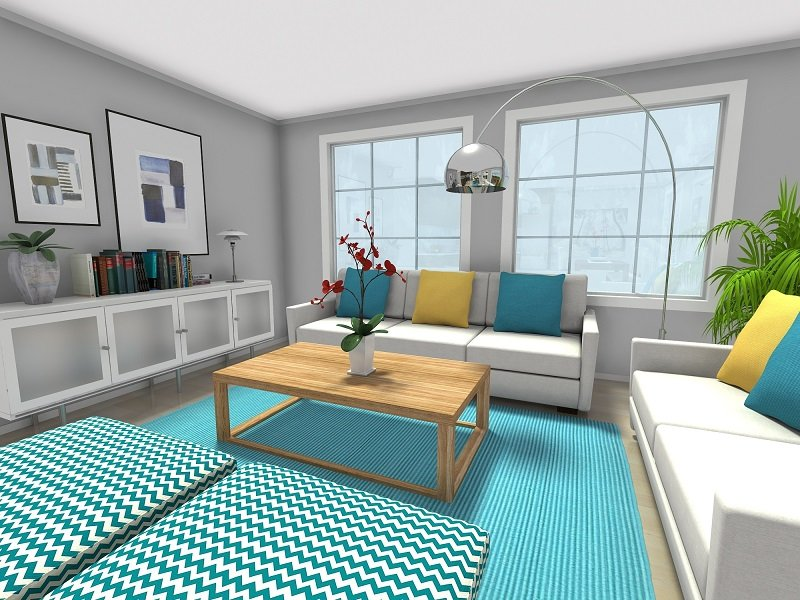 Pros:
3D floor plans in real-time.
Materials can be replaced
Cons:
Not very user-friendly for beginners
Not sufficient odels, textures, features
Limited access to key features
Ikea Home Planner
One of our favorites is this handy little interior design program. Not only can you set the room layout and customize it, but you can also add Ikea furniture to it? It's a great design tool for creating a real-time, user-friendly experience. Not only that, but it also shows the price of each item of furniture you've added, so you can get an idea of how much your makeover or interior design will cost.
Pros:
Accessible to all IKEA products
Cons:
Restricted to Ikea furniture only
Houzz
Houzz has some excellent interior design software products. The Houzz Pro software tools are a valuable addition to your business because they offer business management possibilities. It includes design tools as well as tracking options for your design contracts and their progress. It also has an online payment feature that allows you to receive payments from your customers immediately.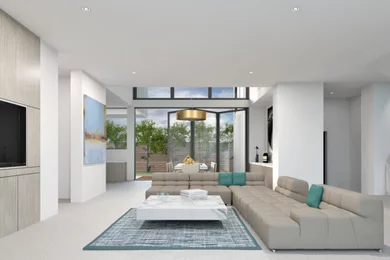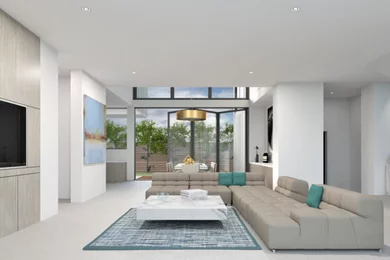 Pros:
Set of marketing tools in its entirety
A comprehensive set of business management tools is available
Cons:
Pricey for beginners and one-time users
Sweet Home 3d
Sweet Home 3D is a free interior design program that allows users to construct 2D and 3D floorplans and layouts from scratch or using templates. You may simply adjust the colors, texture, size, and orientation of furniture and rooms by dragging and dropping doors, windows, and furniture from a catalog.
It's a simple and easy-to-use open-source application for beginners that's perfect for creating interiors and drafting floor plans for your home or office. You can take an interactive virtual tour of your design before it's finalized with the 3D design tool. You may also use your plans to produce lifelike photographs and movies.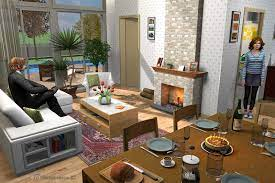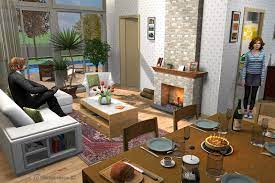 Pros:
Both 2D and 3D rendering are supported.
The ability to sketch a variety of irregular wall shapes
Cons:
The user interface is not user-friendly.
There are a few free options available.
Non-professional designers may find it difficult.
Floorplanner
Anyone who wants to design their home without having to download any software will find Floorplanner useful. Create flexible floor plans, add furniture and windows, and visualize the design in 2D or 3D in real-time. Within minutes, you may create precise 2D blueprints and customize them with over 150,000+ things.
Users can upgrade to one of four project levels by purchasing additional credits. Every new level enables improved exporters and functionality, as well as all of the previous levels' capabilities. A particular number of credits is required to upgrade a project to a higher level. Credits can be acquired as part of a subscription or separately.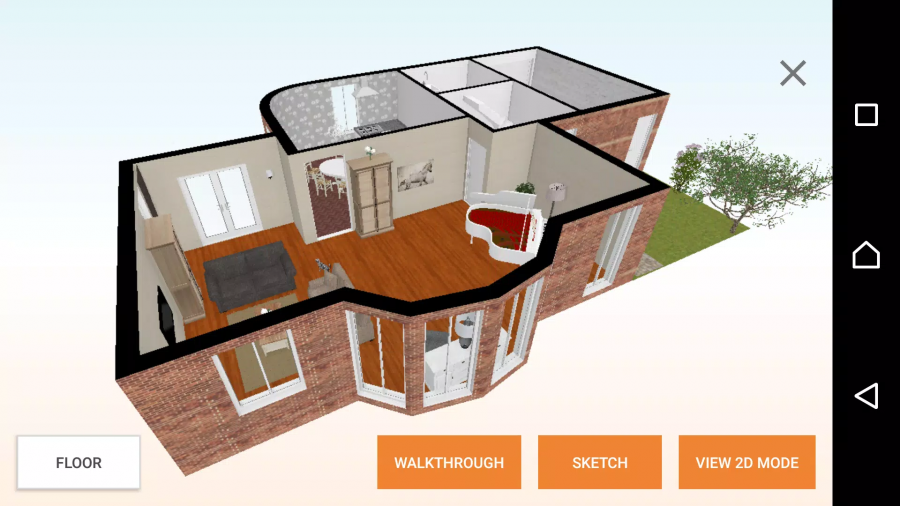 Pros:
Designed for individuals and the pros
Cons:
Less powerful rendering techniques
Conclusion
Using home design software will give you the tools to create beautiful, functional spaces in your home. When choosing the right program for you, consider many things, including the features, ease of use, cost, and functionality. Depending on your skill and comfort, look for options that include tutorials, information on design basics, and decorating tips.
Coohom is a powerful and intuitive home design software that can be used on Android, iOS, Windows, and Mac OS devices. It offers a wide range of features for creating detailed floor plans, 3D models, and decorating your home. It also doesn't take up a lot of space because of its fantastic cloud computing capability. It reduces the amount of time and money spent on licensing. With these design tools, anyone can build extremely stunning home ideas. It is, in our opinion, the best interior design program for both professionals and novices.
The free version is generous regarding the number of features you can access, and the paid upgrades are affordable. If you're looking for an easy way to create beautiful home designs and lightning-fast renderings, we encourage you to give Coohom a try.
Social Contact:
LinkedIn | Facebook | Instagram | Twitter | YouTube
Media Contact:
>>> Schedule a DEMO!