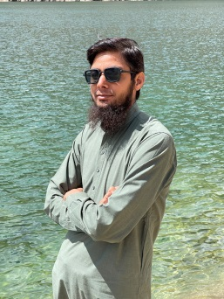 Once Muhammad Taqi Khan was just a hard working junior Architect but after many years of working day and night, now he is not only an interior designer and construction manager in Pakistan but also own a construction company named 10th Construction & Design Studio.
Who are you? Can you tell me a little about yourself?
My Name is Muhammad Taqi Khan and I'm an interior designer and construction manager based in Pakistan. I own a construction company named 10th Construction & Design Studio.
After my high school education, I decided to choose civil engineering in college for 3 years Diploma. As soon as I completed my diploma started working in a company as a junior Architect. I always wanted to complete my education and I got admission to the university and completed my 4-year bachelor's degree in engineering. It was a tuff challenge for me to continue studying while you are working full-time in a company but with the help of co-workers and the owner of the company, it becomes easy.
From 2006 to till date working day and night to achieve my goals and making happy clients. In 2017 worked with MINISO here in Pakistan and construct their all outlets across the country in different cities. Mini good is also on my client list among hundreds of clients.
What are the difficulties to work as a designer?
It looks easy to be a designer but in reality, it's a very challenging job. Becoming an interior designer usually requires an understanding of theoretical concepts, including design theory, fine arts, and floor plan judgment. When you work in a large-scale company you learn these from the seniors and experience. The most important thing for a designer is to communicate, coordinate and negotiate with the clients directly. For this excellent communication and people management skills are vital to maintaining good relations with clients. One more challenge is choosing the right design for the category you are working with, like Residential Design, Commercial design, Retail design, Public Building, or outdoor design. Changing your thoughts, mood, and idea from one category to another is also a challenging part of a designer's life.
How and when did you start to use Coohom to design instead of other software?
I was always looking for software that helps me to design really fast. I don't want to construct everything in the 3ds max or sketch up or AutoCAD. So I was always looking for a solution.
Sometimes I have to outsource my ideas because of the short time and workload. Making a presentation for meeting with the client is very vital and before Coohoom I was using AutoCAD hatched plans or Photoshop for plan rendering. It took a lot of time and effort for a small project presentation.
After all these years of struggling, I'm glad I found Coohoom via Facebook. When I saw the advertisement it attracts me and watched its tutorial videos and decided in no time to learn this amazing software's and start searching for tutorials in my own language on YouTube and found some very useful videos. Only in 4 months of learning now I am able to design a project in hours.
How is Coohom helping your design work?
It's super-fast and easy and the library is full of new designs and models. Rendering without affecting work speed is an imaginary thing for a 3ds max user. It helps me a lot to design a space like a real space. My clients are not able to detect if it's a 3d or original picture. Its rendering quality is amazing and more like a real picture. Making videos of your designed project was never an easy task but this software is just outstanding. It helps me create Floor plans, Renders like real pictures, making panoramas and videos for the client. Getting more happy clients and saving time for future clients.
What is your favorite feature in Coohom?
Rendering speed, it was hard to believe when I got my 1st 4k render in no time and without pausing my designing work. Making videos and giving a virtual tour to your client after designing the project is the best part of this software. Making kitchen and bath detail design is also my favorite as I was never been able to get much time to design them by myself. I always tried to escape from this task but now I am happily offering my services to clients if they want a customized kitchen design.
What is your typical workflow with Coohom?
As mentioned earlier knowing the requirement is the first and main key point to understanding the nature of the project. Making a sketch as per discussion and then importing it into coohom for a floor plan is a great thing provided by the software. Arranging the doors, windows, and ceiling and selecting the floor is the next big thing to decide.
After that selecting the right furniture as per requirement and sometimes adding wall design from the library or creating construction tools help me to get close to the finalized design. After all that setting up the lighting before rendering is the key feature to getting your desired result and coho never disappoints with this. Rendering initial images and then making panorama and videos on the last. This is how I work on coohom.
Can you share with us some of your experiences with how to improve your skills with Coohom?
Coohom is making lighting better day by day. I'm still learning its features and did not explore it fully yet. One of my friends asked me to design his 150sqm house and he was surprised when I sent him renders within a day. Every time I shared a project with my clients, friends, or co-worker they never believed me that it is created in a very short time.
What are your expectations of Coohom?
It's a career-changing software and hopes it will help a lot of new designers as well as experienced ones. I'm expecting some new features in the construction tool and editing the model options in the coming updates. It will help designers to get the perfect designs and save time. The limited activity makes the design process a bit slow because everyone is not an expert in using sketches like me. So I always wanted to stay with the same software and complete the project.
Any other you want to tell us?
Coohom is very user-friendly, always teaching with webinars and engaging with users. Wishes to the team and founder of such great software.
In
3d lighting design, 3d modeling, 3d viewer, api integration, b&b italia, best design platform, bohemian, business partner, cassina, customized design, design ideas, design university, FreeInteriorDesign, high point, homebyme, interior design, photo studio, Rendering, rendering settings, retailer, shopify design app, south korea interior design, Trade Show
The future office design will focus more on people, and Woods Bagot's concept of human-centered architecture is a vivid reflection of this trend....