Coohom has recently held a video conference with Hanssem Co., Ltd. and Daegu University in South Korea. This special conference took place in 3 cities, and the parties signed an Official Strategic Partnership Agreement.
Coohom, Hanssem, and Daegu University will collaborate with each other in cultivating interior design talents and redefining design courses with a combination of teaching and industry practices.
Coohom joined hands with the Korean furniture giant in influencing the design teaching in a Korean university through its cloud design capabilities and solutions, not only following the trend in cloud computing standardization and design tool renovation but also reaching out bravely to the upstream of the industry!
For a year, the parties had many in-depth discussions regarding collaboration proposals and worked out a plan during the pandemic. Coohom will work closely to design professional courses, set up a training center offering internships, and nurture innovative talent for the home decor and interior design industry according to the plan."
" Ever since the partnership with Hanssem, we have been working together to explore the best way to introduce to design majors on Korean campuses the industry-university collaboration program, which proves successful in China, as well as the trial use of our Coohom cloud design tools. This way, these designers ready-to-be will be better prepared for the digital future in their fields. ", says Jiamiao Zhang, VP, and the general manager of the Korean division of Qunhe Technology.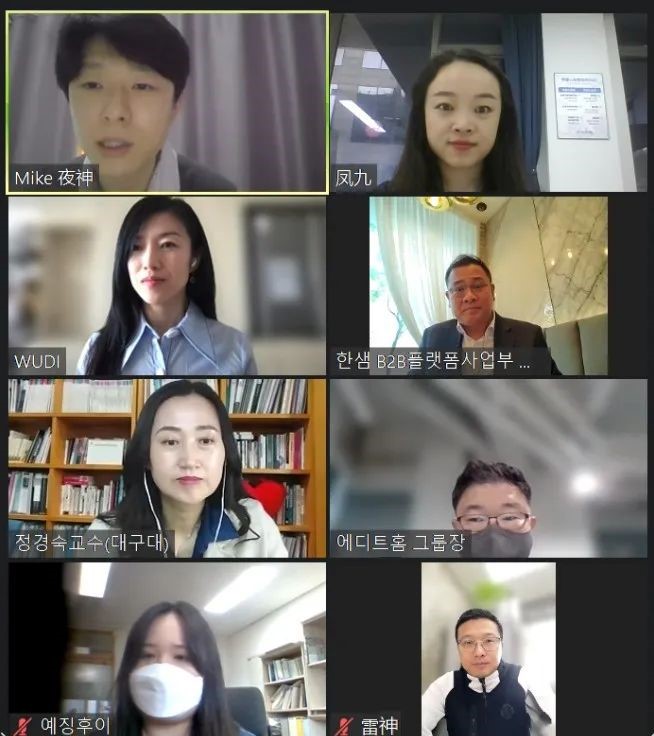 Screenshots of the video conference
" EditHome & COOHOM Industry-University Collaboration Center " with Hanssem
Media coverage in Korea shows that consumers are having a surging demand for furniture and home decor during the pandemic since they have to stay at home much longer. Meanwhile, their shopping habits have changed.
Before the pandemic, Korean consumers would visit brick-and-mortar retail stores to pick and choose furniture. As furniture retailers and showrooms have shifted online, consumers can now select items and place orders at their fingertips, stressing the importance of a great digital customer experience more than ever. This further brings enterprise digital marketing and design talent nurturing to the attention of universities, industries, and other stakeholders.
"Our students have shown great interest in Coohom's 3D cloud design tool. They found it pretty impressive after the trial use. So I believe our collaboration with both Coohom and Hanssem in this field will achieve more fruitful results", says Professor Jung Kung Sook, who's responsible for implementing the collaboration project at Daegu University.
The Space Design major of the university has been around for 35 years, ranking second in South Korea. For 20 years on end, students of this major have reaped awards in all kinds of interior and architecture design contests from home and abroad.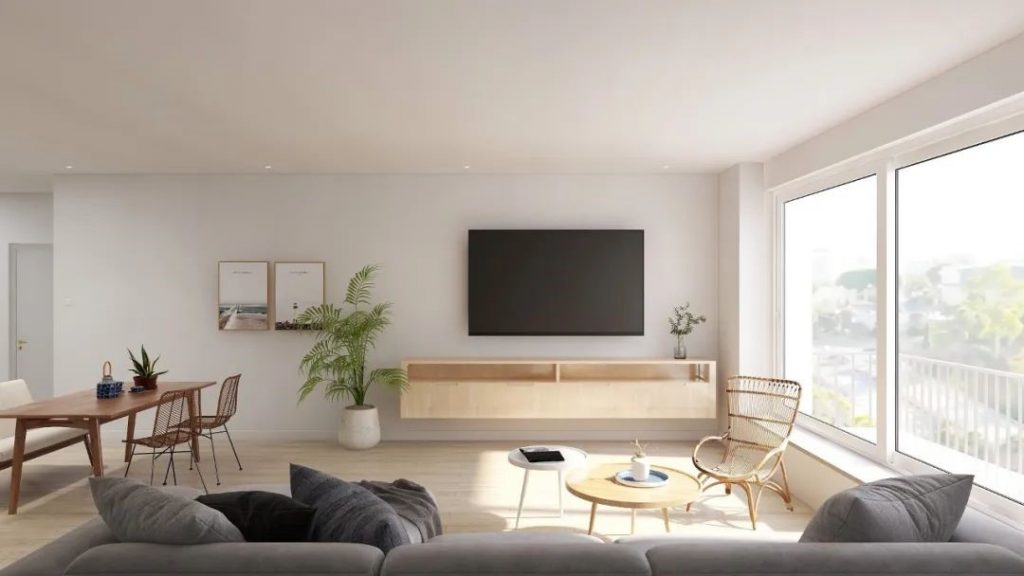 One of the interior design works from Daegu University students using Coohom
It is said that courses related to space design at Daegu University used to be taught using software such as CAD and SU for the most part, and students would also use tools such as V-ray and Lumion for 3D rendering.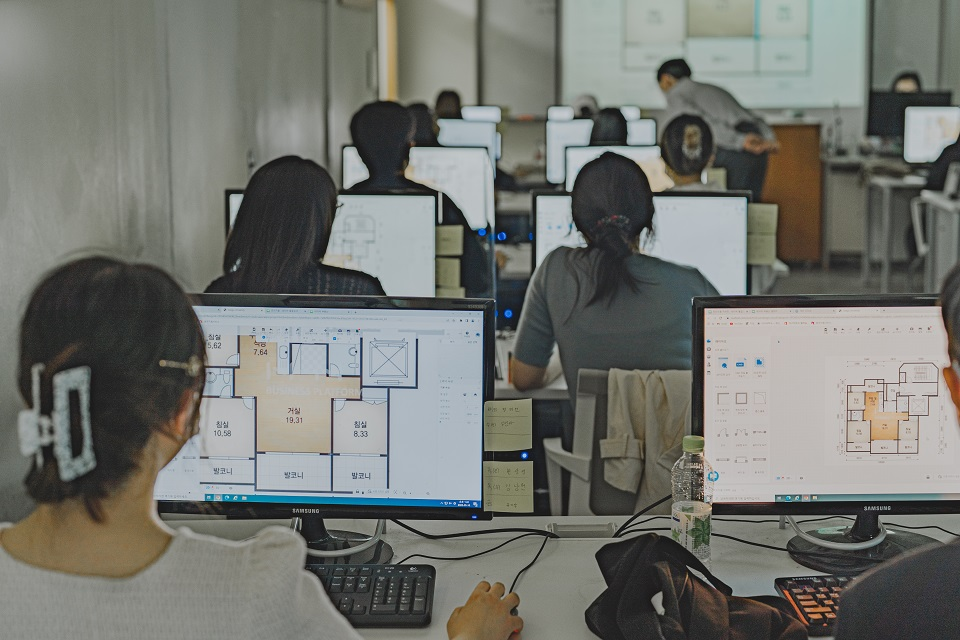 Students at Daegu University using Coohom
" After a trial use of Coohom, we identified it as a tool with features and capabilities either SU or V-ray have. When using traditional software, students often found it quite hard to learn the basic features and might have trouble in applying the more advanced ones to serve their design purposes fully. Switching to Coohom, however, they could walk through the whole design process more intuitively. The collaboration with furniture giants like Hanssem also offers us a deep insight into the interior design styles in trend and upcoming. This in turn becomes a good opportunity for us to innovate and improve our interior design courses. " says Professor Jung Kung Sook.
According to the strategic partnership, Coohom and Hanssem will set up a joint " EditHome & COOHOM Industry-University Collaboration Center ".
Based on the EditHome design platform, the school of Interior Architecture & Design will develop a series of design courses in which the EditHome design engine will be applied to practical teaching, learning, and exercises.
Apart from the cloud design teaching program, the collaboration also involves students visiting furniture and home decor companies, industry-wide job fairs for graduates, collaborative design shows, and more. Events like these can take industry exchanges to the next level and provide students of Daegu University with a direct pathway to the practical side of what they learn.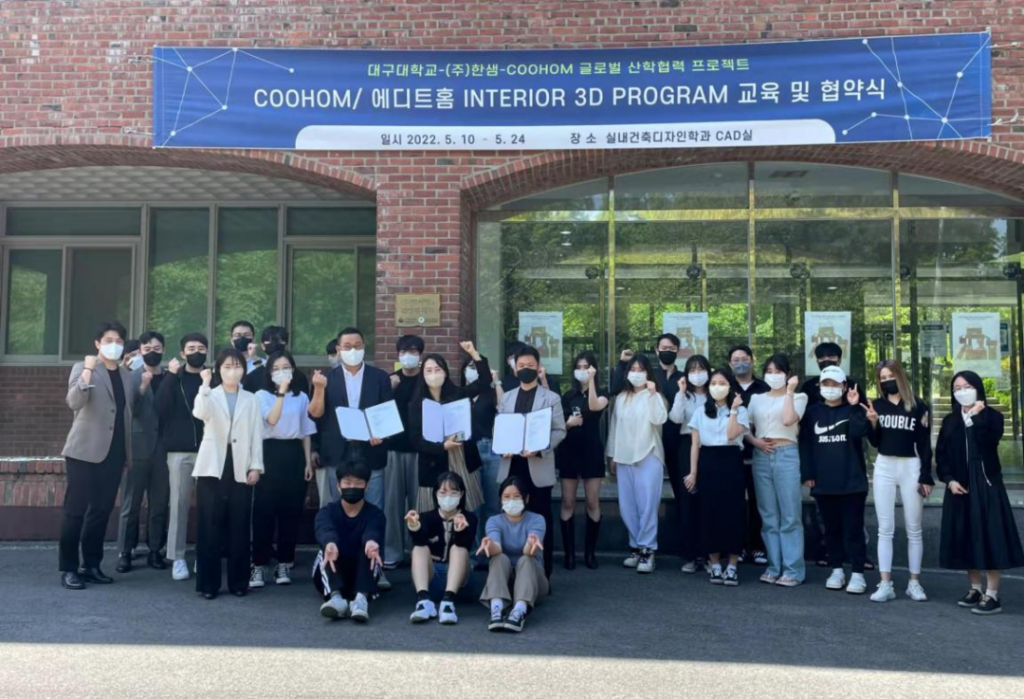 Building a sustainable, systematic, and standardized international collaboration model
Unexpectedly, the pandemic has led to a dramatic rise in consumer demand for furniture and home decor. As the whole industry is having a recovery, Hanssem stands out as one of the strongest performers.
Founded in 1970, Hanssem has always been the No.1 in kitchen furniture and home furniture. It is the benchmark company in the home decor industry of Korea and also one of the largest custom furniture suppliers across the globe. After its partnership with Coohom kicked off in 2019, Hanssem, with the help of Coohom's 3D design technologies, built an interior design, decoration, and construction platform called EditHome. The platform was launched successfully for interior design and construction projects in Korea and has contributed to realizing the imagination of ideal homes for Korean consumers.
As of today, Coohom has had its international version in 6 languages, namely Chinese, English, French, German, Korean and Japanese. It serves customers in over 200 countries and regions and has opened a branch office in New York.
The sales and operations team of Coohom increases their efforts in localization step by step To better address the customer needs in the local area. When it comes to key enterprise accounts like Hanssem, which seeks upgrades in high-tech tools and business operations, Coohom dispatched a team of professionals to the Korean company to offer hands-on guidance. On the other hand, schools of design in universities like Daegu University are calling for digital transformations in teaching, to which Coohom also responded in time.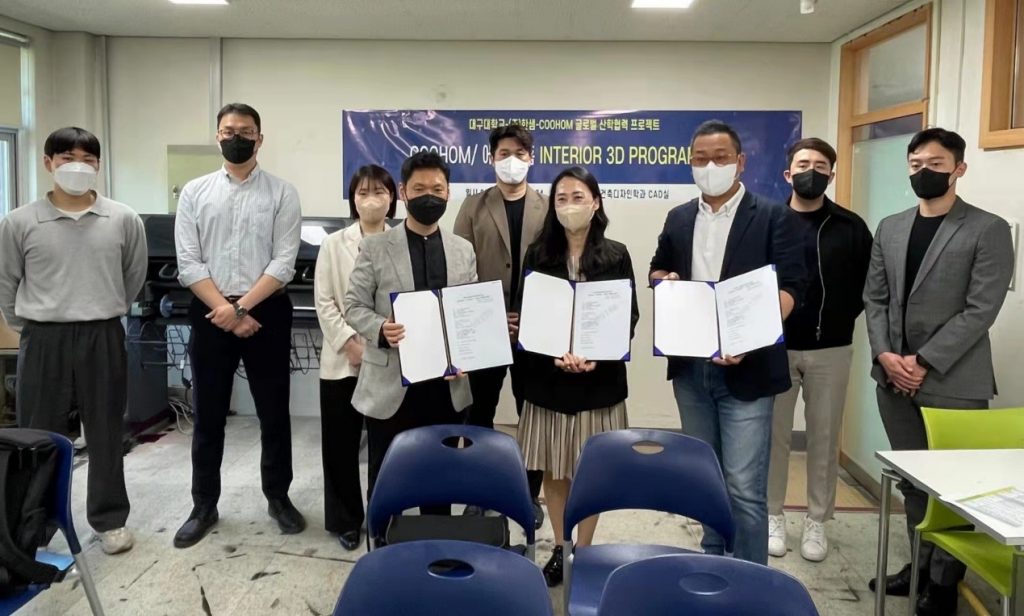 "The collaboration program in South Korea is our first strategic partnership and exchange with universities overseas. I feel much appreciated that both Daegu University and Hanssem recognize our technological advantage as well as the satisfying results of the collaboration program. Daegu University is the first stop on a long journey overseas. In the future, we will build a more sustainable, systematic, and standardized international collaboration model. In line with Coohom's strategy in the Korean market, we'll tweak the model for other Korean universities. When the right time comes, we'll replicate it in universities in North America, Southeast Asia, and other countries and regions, involving local furniture and home decor suppliers in nurturing design talents and transforming design teaching." says Fengbo Yan, the general manager of the campus division of Qunhe Technology.
Social Contact:
LinkedIn | Facebook | Instagram | Twitter | YouTube
Media Contact:
>>> Schedule a DEMO!