Coohom released the exclusive diamond VIP subscriptions to empower enterprises with more advanced 3D interior design features and construction capabilities. From panoramas to full 720 virtual tours, from fast rendering up to 16K resolution to final quotation, we dedicatedly solve any design-to-sales difficulties, our solution saves 90% of marketing time for the whole house interiors industry. Coohom stimulates the interior design inspirations!
TUSCON Wooden Interiors, a forward-looking and prestigious wooden home furnishing company, as an pioneer in the digitalized business era, they started focusing on the digital presentation in 2014, and cooperated with Coohom to develop superb quality roaming videos, TUSCON Wooden Interiors used the exclusive diamond VIP subscription of Coohom to reach clients dynamically, and with 720 virtual tours feature to greatly seize the marketing opportunities, which lets the sales performance grow over 80% in 2 months.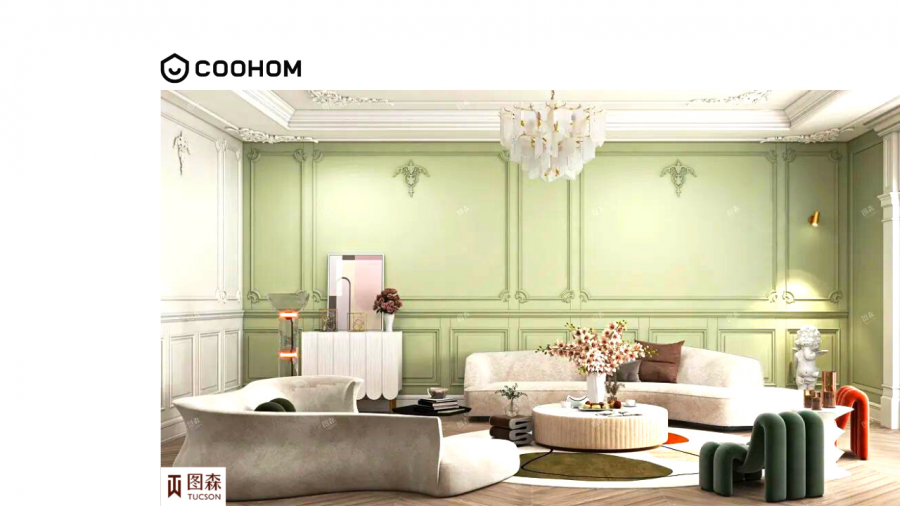 01 Ultra high-resolution rendering consolidates brand influences and exposures
Coohom's amazing fast rendering capability aligns with TUSCON Wooden Interiors' core value, which is provide high-end wooden home interiors, and delicate home space creation, the goal is to achieve people's desire for a better home, and serve a better living style.
In 2017, it operated Tonino Lamborghini Casa, CG Nighttime, and other huge furniture brands in China,, they provide several great series of wooden furniture lines, which include C-Classic, TUSCON NC-Oriental Aesthetics, PUCCIN-Modern Italian, PANAREA-Luxury Italian, and so on.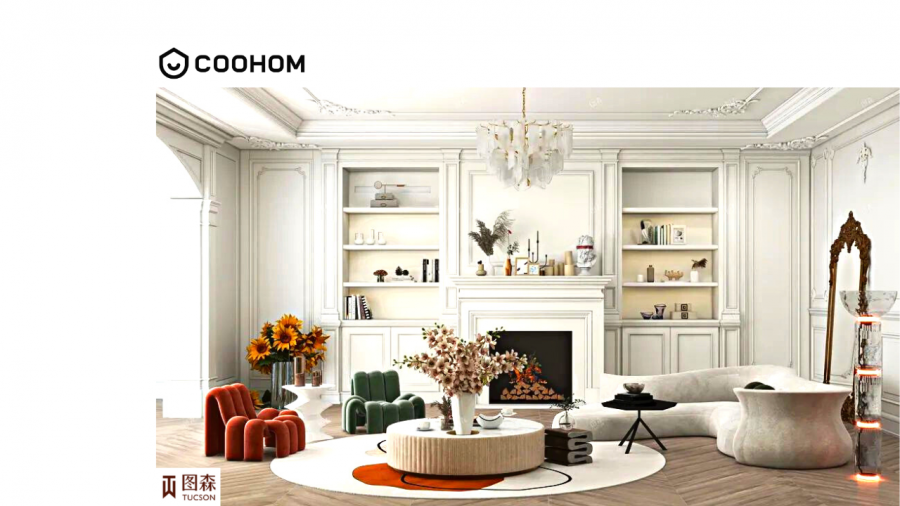 High-end fine decoration has always been TUSCON's big focus, they have a team with strong wooden interior design background to develop good furnishing that fits people's desire.
The wooden work customization is never an easy task to finish regarding interiors, Coohom provides great 3D home design tools and specialized 3D modeling service to make those hard tasks no longer difficulties, with Coohom' open API integration, TUSCON successfully lets more that 95% of its distributors all learn and use Coohom's with their designs!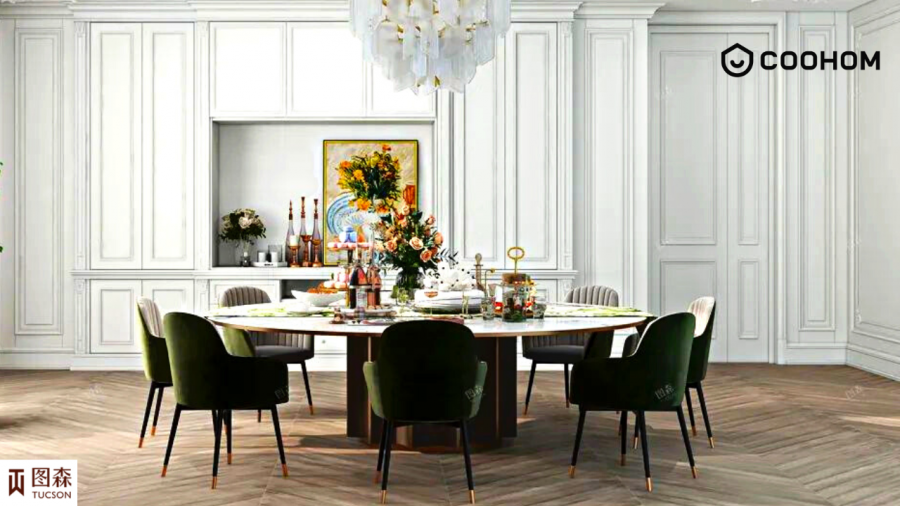 In order to accurately catch the high-end consumer market, TUCSON deeply knows how important digital presentation is, the picture exhibit has its limits, Coohom's rendering feature enables the users to render their designs up to 16K or even 32K resolution, to vividly exhibit your design to the world as real scenario.
And by continuously strengthen this powerful and influential factor via Coohom, TUSCON is able to dominate the market trends at first among most social media platforms, because this kind of marketing strategy could let customers think of it as a first and top brand in this field, so to level up the conversions and transaction rates.
02 Catch attention at first, then deliver best quality of service, no compromise
When it comes to deliver the best quality of design to the customers, Coohom always believes that " High Standard ", " High Quality ", " High Flexibility ", are the key elements, through generating the wholesome spatial design solution, we know what's the precise and concise deliverables for our clients.
Coohom's ultimate 3D visualization functions help TUSCON realize its digital fantasy, as in providing the scenario-based experience to the customers, and the HD video presentation is a great deal in this sector, it's more interactive, more intuitive, more vivid, which completely outperforms than picture presentation whatsoever.
In 2021, TUCSON officially launched a combination of regarding marketing operations, 360-degree HD panoramas and roaming video marketing.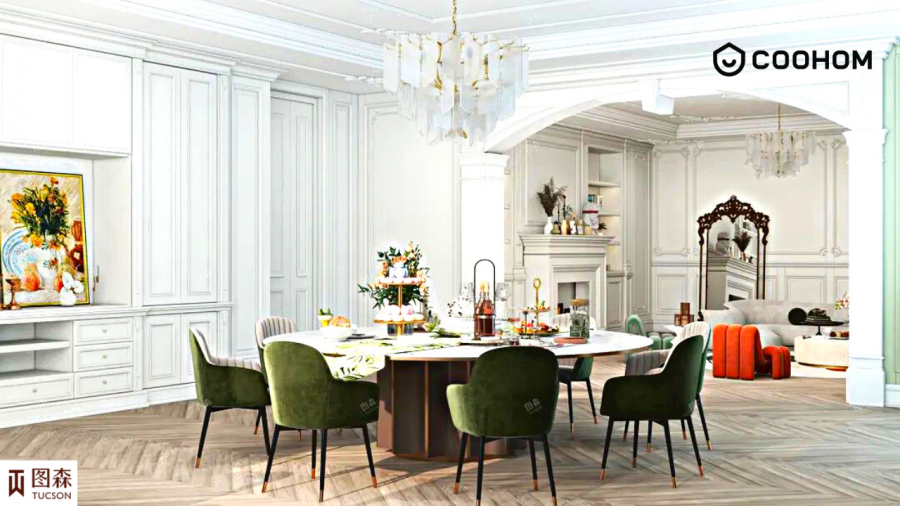 03 Share the beauty of design dynamically, and visualize the design with 3D feature
Coohom is a all-in-one 3D design SaaS, which means that either for B2B or B2C market, it's no doubt a wonderful 3D visualization software presently, while TUCSON was exploring how to empower its dealers and improve the shared system performance, Coohom was the first thought that came into their mind as the solution provider.
Coohom and TUCSON Wooden Interiors have always maintained a harmonized partnership, now it's got more than 98% of TUSCON's dealers are designing with Coohom, the using time period is around 7 hours on a daily basis, and the views of its designs increased by 196%, according to the data research, TUSCON created over 8,000 projects, and 240,000 renders, 1,500 videos via Coohom in the year of 2021.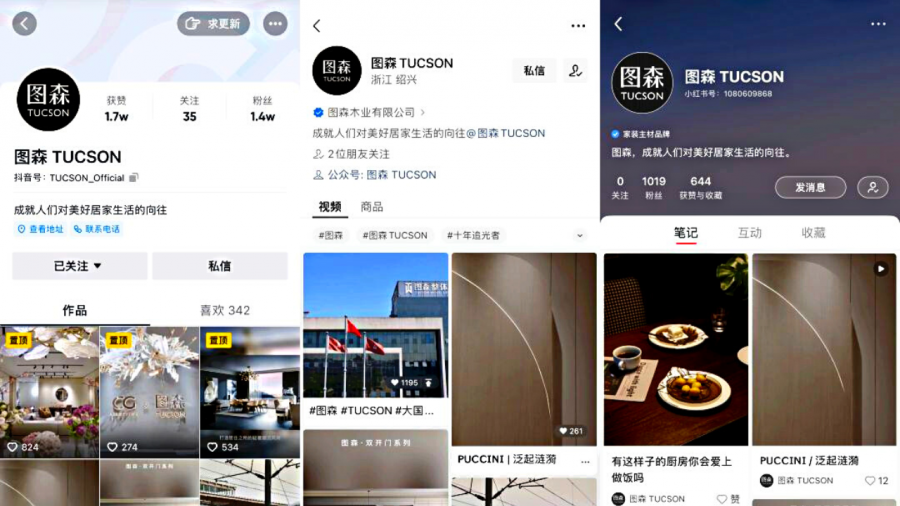 " In term of 3D design marketing integration & solution, Coohom is definitely the best service provider that I've ever utilized, Coohom successfully helps us to grow in a great deal, the very next step, we're going to collaborate with global designers and let them get familiar with Coohom's powerful 3D design tools, to convey the production information via its absolute beauty is TUSCON's goal, and with Coohom, there's no difficulties stand in the way! " says the chairman of TUSCON Wooden Interiors, Weiyang Wang.
Social Contact:
LinkedIn | Facebook | Instagram | Twitter | YouTube
Media Contact:
>>> Schedule a DEMO!
For interior designers, the most trendy color of each year has become a great source of inspirations and an ideal...