A modular kitchen is one that is made in a factory and custom-designed to suit your needs and budget. It has different modulates assembled together that are finished with a variety of finishes for a sleek look. Let's Check out some of the popular modular kitchen designs.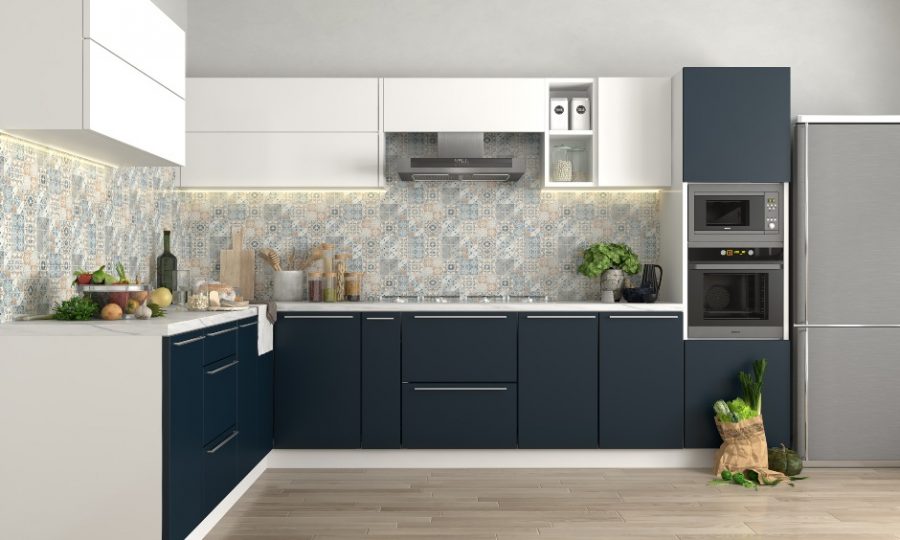 A Bold Navy Blue And White Modular Kitchen Design
This royal blue and white modular kitchen with floral tiles are for those who want to make a statement. This kitchen design with clever storage options makes working easier and much cleaner.
Special Features
An oil and spice pull out.
Bi-fold lift-up kitchen wall module.
A tall unit with an in-built microwave and grill.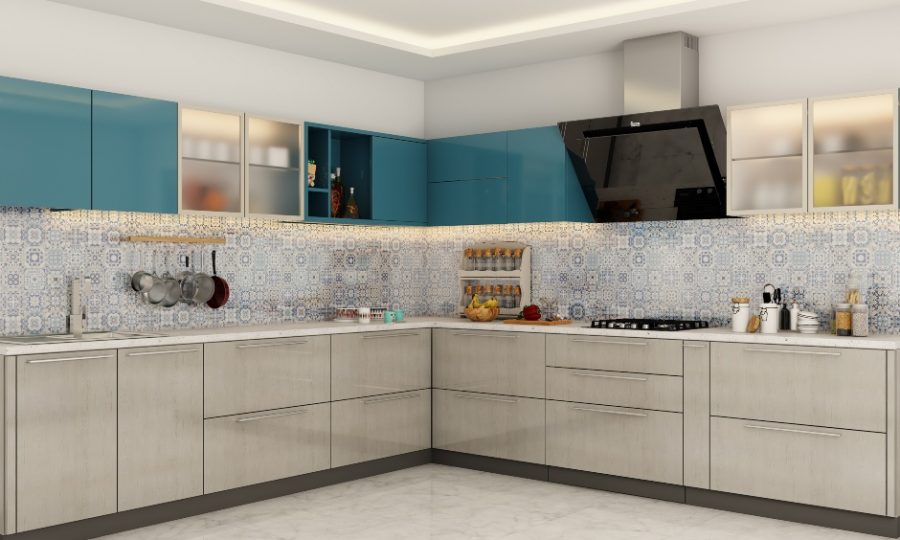 A Blue L-Shaped Modular Kitchen Design With A Tiled Backsplash
This modular kitchen has floral printed tiles that make this space more charming. Inspired by the colors of the sea, this kitchen interior is soothing to look at and spacious to work in with its clever storage solutions.
Special Features
An oil pulls out.
A skirting drawer.
Cabinets with frosted glass.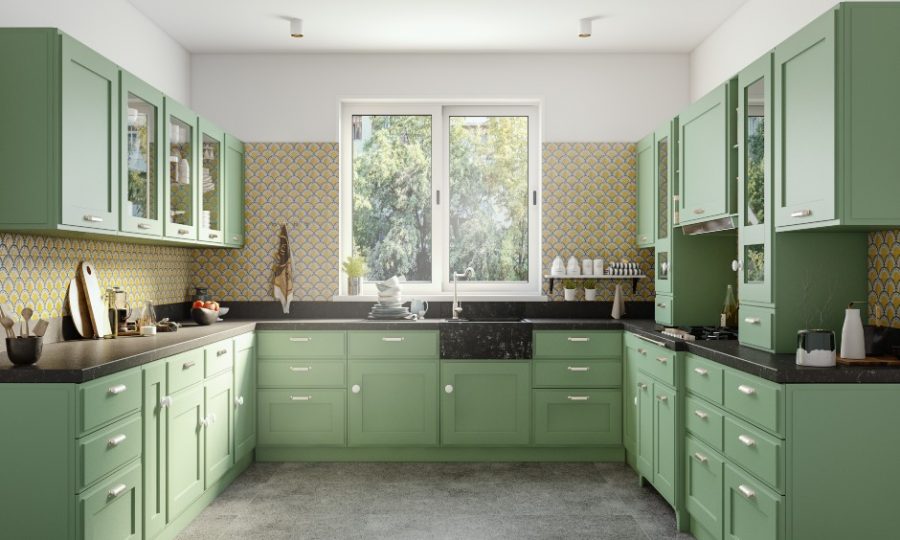 A U-Shaped Classic Styled Kitchen Design In Green
This kitchen in pastel green is designed for large, spacious homes. Ample storage options with cabinets and drawers help with better organization.
Special Features
An inbuilt cutlery tray in the drawer for clean organisation
50 Kg tandem drawer for storing heavy groceries
Built-in dustbin under the sink that saves space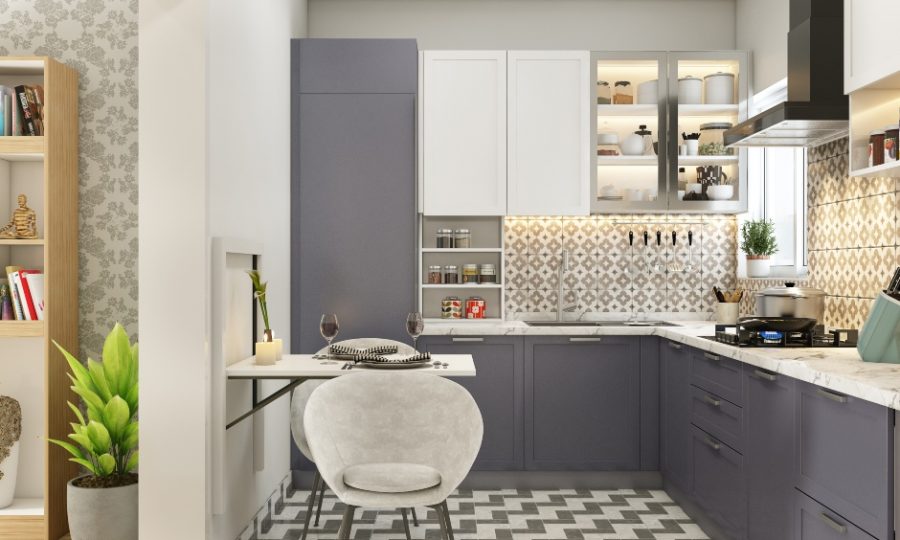 A Compact Kitchen With A Wall Mounted Breakfast Counter
This small yet functional kitchen comes with multiple storage solutions for a hassle-free cooking experience. The white Duco finish overhead cabinets reflect ample lights to create an illusion of a bigger space, while the base cabinets are designed in a dark shade as it is more prone to wear and tear. We have also added a wall-mounted folding dining table for you to enjoy cosy mealtime with your partner.
Special Features
A modular kitchen in Duco finish for a luxurious feel.
A tall unit with shelves to store all your crockery and extra pantry.
A box cabinet with glass fronts to exhibit your expensive dinnerware.
A spice cabinet to keep all your spice jars in your reach.
A wall-mounted foldable dining table to enjoy intimate meal time with your partner.
An in-built hob and heavy-duty chimney for a clean and oil-free kitchen.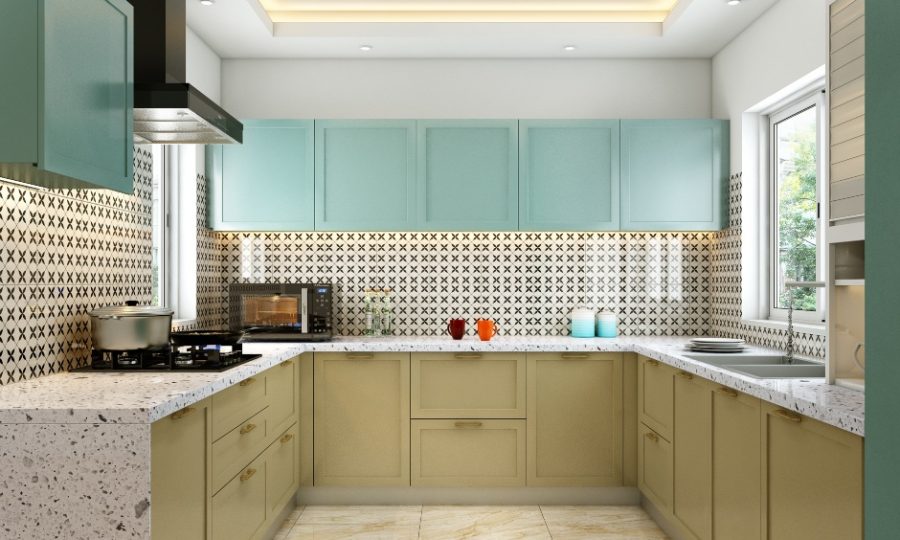 A Duco Finish Kitchen In Dual Colour Tone
The pastel shade of this kitchen lends a young and chic look perfect for urban couples. This kitchen provides ample free space for free-flow movement, perfect for couples who love to cook together.
Special Features
A kitchen designed in pretty pastel shades for a youthful and vibrant look.
The overhead cabinets have handled less storage units to keep all your pantry essentials.
A crockery unit with a frosted glass shutter to keep your expensive crockery and dinner set safe.
The base cabinet has drawers and multiple pull-out units for a hassle-free culinary experience.
A Quartz countertop to lend a luxury appeal to the entire space.
A heavy-duty chimney and in-built hob unit to keep your kitchen clean and oil-free.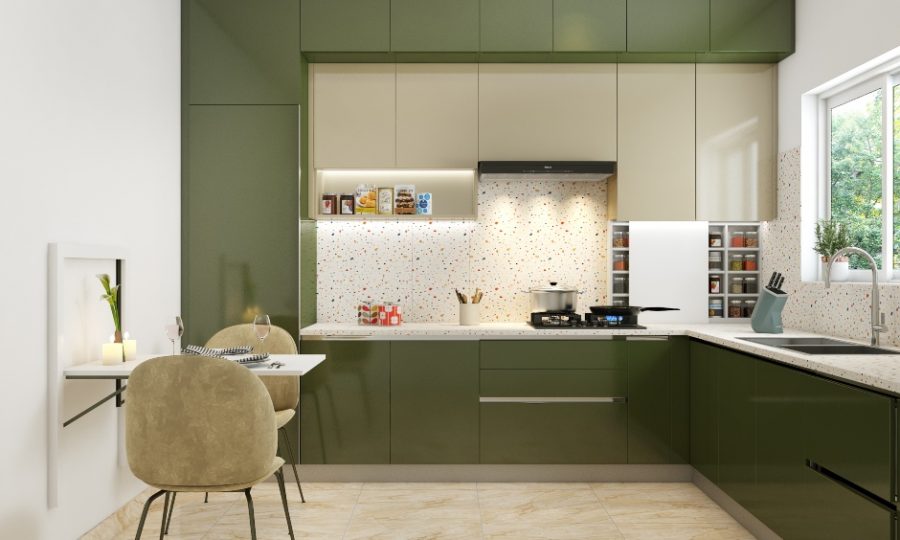 Modular Kitchen With A Wall Mounted Dining Table
This modular kitchen has everything your heart desires and is perfect for families with busy schedules. The handleless cabinets in olive green and off white laminates lend a striking contrast while lending a clutter-free look. The wall-mounted dining table for two lends a cosy vibe and helps you enjoy meals with your partner even when space constraints don't allow you to have a separate dining area.
Special Features
A modular kitchen in dual colour tone for a smart and attractive look.
A tall unit to keep extra pantry and utensils in an organised manner.
Modular storage mechanisms like oil pull-out, multiple drawers, and cabinets to store all your kitchen essentials.
A spice cabinet with a sliding shutter to keep all your spice bottles within a comfortable reach.
An in-built hob and heavy-duty chimney to keep your kitchen neat and oil-free.
A wall-mounted foldable dining table for two to enjoy cosy meals with your partner.
All of these design styles are worth a try, pick the one you like and try it.
Social Contact:
LinkedIn | Facebook | Instagram | Twitter | YouTube
Media Contact:
>>> Schedule a DEMO
In
3d modeling, 3d visualization, 3dx max, api integration, attic, Attic Design, best 3d home design, bohemian, cassina, CoohomInspiration, CoohomInteriors, e-commerce design, FinancesOnline, FreeInteriorDesign, freelancer interior designer, google design, home design, hpmkt2021, inetrior design, kitchen & bath design, photo studio, PhotoStudioGallery, salone del mobile, tropical design, Videographer, VR
Courtyards can be our spiritual homes. They remind us of our homesickness, love, joy and memories.   01 Dramatic transformation 02 Garden renovation...