Coohom Introduces It's Premium Photo & Video Studio Feature, Which Aims to Create Perfect Scenes for Your Products with The Highest Possible Rendering Quality.
August 23 2022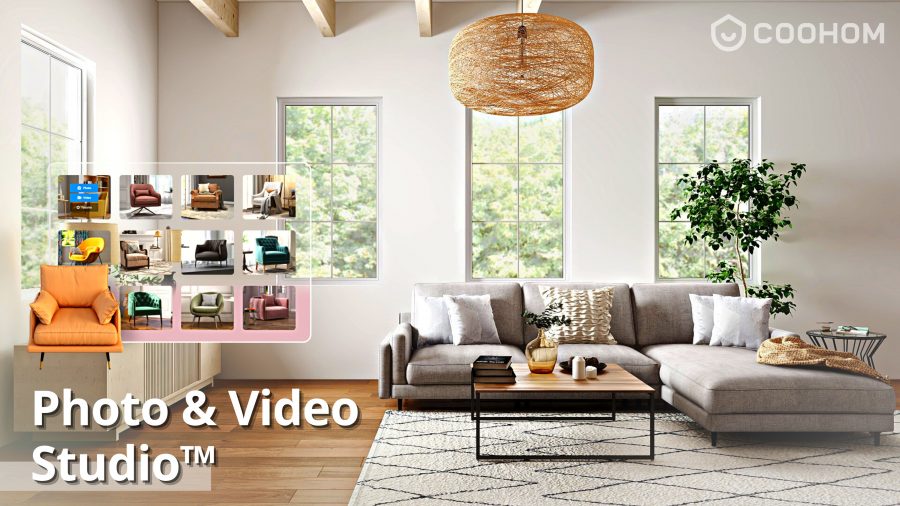 Coohom's Photo & Video Studio feature helps E-commerce retailers far better to present their products to the customers without massive labor and material costs. For furniture and home decor companies, also kitchen & bath brands, this amazing feature delivers premium white-glove service, which means from virtual camera setting to exquisite real-life scene rendering, with your product catalog, Coohom realizes everything possible for your business. When 3D visualization encounters interior design, it actually makes the perfection combination for both retailers and customers, since this way that customers could browse any products with the customized settings as personalized as it can be, and the retailers could effortlessly exhibit the best condition of their products in the most vivid perspective to the customers, it's a win-win situation!
" In this fast-changing period of time around the world, actually, every industry is thinking about how to cope with it, and get ahead of everyone else to dominate the market first, because you can't predict what customers would like 100%, however, you could manage to find a way to lead them into liking your products and your brand. And what is the most cost-effective way? Our answer is 3D visualization, Coohom serves the world-leading cloud-based rendering technology to improve the sales performance, and product conversion for almost all E-commerce sections. Coohom's Photo & Video Studio certainly optimizes the design process, and product presentation, and sales performance for the furniture retailing brands, with the photo-realistic rendering up to 16K resolution and virtual video roaming functions, we make sure that our clients never fall short of the sales goals, and always be winning ahead of other competitors! " quotes Cook Liao, the head of Coohom.
More than 3,000 smart AI templates prepared for you to choose, it integrates with plenty of different interior styles, which you don't have to worry about how to set up a distinct background that could best emphasize your product. The inspiration never fades here, Coohom is a community trusted by many, over 8 million designers across the globe are creating 3D design projects on our platform everyday, and you could communicate with them in real-time to let them know you're interested in getting an unique design scene for your product showing, hence, you're conveying a lifestyle to your customers, not just a product itself.
The best marketing strategy is to let the audience know the core value of your product without saying much, the visuals, the videos, the concepts, via Coohom's Photo & Video Studio to achieve greater business targets, to deliver better lifestyles, and to establish stronger brand image, one perfect product picture is all your need to maximize the conversions!
Photo & Video Studio of Coohom
Photo Studio Premium(white-glove service).
Fast photo-realistic rendering up to 16K resolution.
Advanced 3D visualization technology to support AR scenes.
More than 3,000 smart Al template to choose.
Exceptional high quality video roaming feature.
Social media marketing execution and sharing supported.
Lower material cost, increase product conversion and sales performance optimally.
Social Contact:
LinkedIn | Facebook | Instagram | Twitter | YouTube
Media Contact:
>>> Schedule a DEMO!