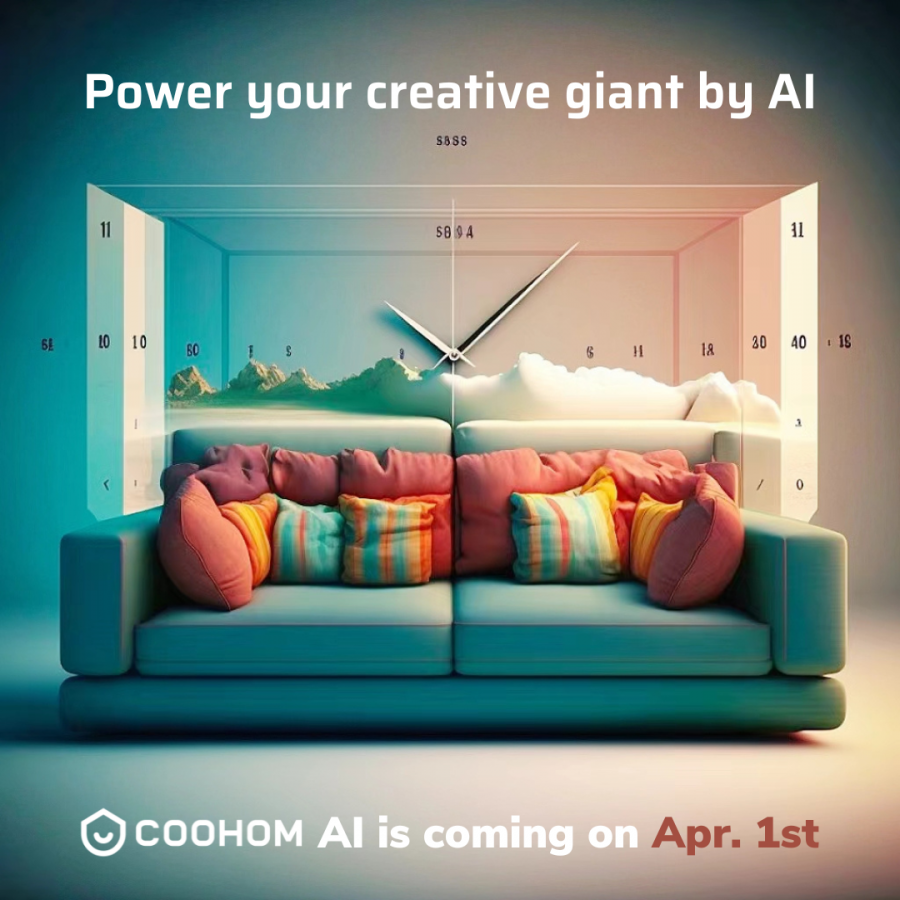 The AI Interior Design Tool by Coohom AIGC Lab is coming! Coohom is an industrial grade cloud-based CAD platform with application scenarios for large complex scenes in manufacturing and construction. Months before, it has established a AIGC Lab to develop the AI interior design tool. The Lab has a team of experienced designers, engineers, and AI experts and aims to transform the traditional approach to interior design by implementing "Model-as-a-Service" (MaaS) that offers both individual and enterprise users a limitless space for creating and designing with the help of AI generation. After several months of hard work, the launch of the AI tool has been announced.
With a range of advanced AI algorithms and features, the AI Interior Design Tool by Coohom AIGC Lab would allow designers to create stunning renderings and professional-grade images with great ease. Unlike traditional furniture shooting, which is laborious and time-consuming, designers simply need to upload an image of a model, and then the AI tool would automatically match the scene and produce a picture with just one click. Moreover, users can freely set the prompts for scenes to achieve what they want. With the AI photo studio feature, users can create stunning, photo-realistic renderings and professional-grade images quickly and effortlessly. However, the AIGC project is not only limited to furniture photography, but it can be applied to a broad range of products and scenarios. Leveraging advanced AI technology, the platform provides designers and users with a versatile tool to create a vast array of designs, whether for interior design, product marketing, or any other application. The endless possibilities that our AI platform provides can generate designs that are both stunning and distinctive.
The AI tool will be seamlessly integrated with Coohom's existing interior design platform, making it intuitive and user-friendly. The platform already enables users to create many attractive designs, and with the addition of this AI tool, the software is poised to become even more comprehensive. The tool is expected to save designers an enormous amount of time and effort, while still providing stunning and sophisticated designs. Interior designers can now focus on their creative vision and ingenuity, without having to worry about the technicalities of the design process. The AI interior design tool by Coohom AIGC Lab is expected to significantly boost designers' creativity and productivity, while delivering an unparalleled design experience. How will Coohom's AI-powered tool disrupt traditional interior design? Let's wait and see.
Source: https://www.pexels.com/photo/simple-workspace-at-home-6476588/ In today's fast-paced digital landscape, the convergence of technology and design plays a pivotal role in shaping the...