Coohom has an industrial grade, cloud-based CAD platform with application scenarios ranging from home design and decor, architecture, commercial space and other complex scenes in manufacturing and construction.
——————
On February 22nd, Coohom 2023 product launch was held online. At the conference, Coohom announced the establishment of AIGC lab in the field of all-space design, a move to explore the application of AIGC scenes. When AI generated images, text and other forms are becoming widely known, Coohom has pushed the boundary of AI industry to 3D scenes.
Zhou Zihan, Head & Chief Scientist of Coohom Frontier Technology Research Institute, said, "Coohom wants to be the pioneer of AIGC in the all-space field, researching AI design generation and iterative creation that covers home design and decor, commercial space and real estate buildings, as well as exploring the trend in intelligent PPT generation in 2D scenes.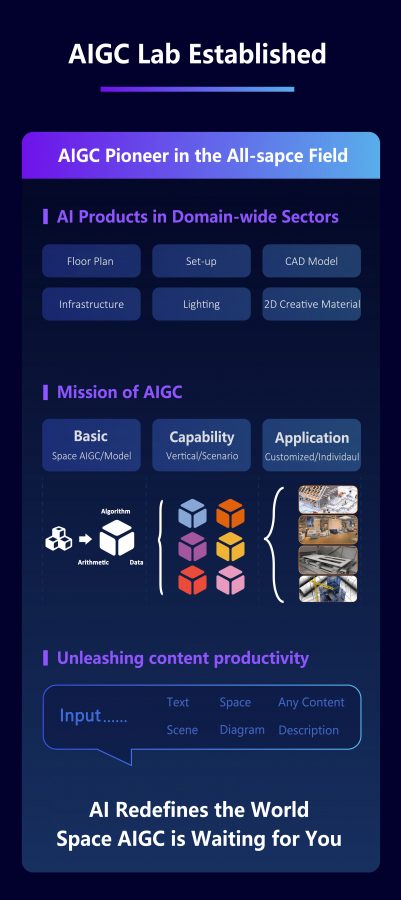 Since AI drawing took off last year, industries such as architecture and design have gradually started to experiment with AI drawing capabilities as well. Plenty of designers are already using image-generating models such as Stable Diffusion and Midjourney to enhance the details of architectural designs. From ink lines to rulers to CAD, traditional design tools can only reflect a designer's creativity, while AI can make creativity more than a human specialty. Therefore, fields such as architecture and design will be transformed by the influence of AI.
Coohom AIGC Lab wants to realize the "Model-as-a-Service" (MaaS) , which provides both its individual and enterprise users with an unlimited space to create freely and flexibly through AI generation. According to Zhou Zihan, the MaaS-based spatial AIGC industry can be divided into three parts: a basic layer to provide a generic AIGC algorithm model for 3D space; a capability layer to achieve pipe lined deployment of different business scenarios based on specific requirements; and an application layer that helps to build a richer content ecology for all-space fields. Coohom has an industrial grade cloud-based CAD platform with application scenarios for large complex scenes in manufacturing and construction such as home, architecture and commercial space. For 3D scenes, developing AIGC in these complex scenarios will bring more value.
Contact sales@coohom.com to learn more about our solutions.
Contact marketing@coohom.com to get partnerships, and share more insights.
Social Contact:
3D Rendering & Product Visualization to Bring Your Business to the Next Level! Digital marketing nowadays is an inevitable trend,...