"Kids spend a lot of time in their bedrooms playing and sleeping, so you want to create a room where they can do both comfortably," According to Andrea Colman, principal interior designer at Fine Finishes Design Inc., "Their bedroom should be a place where they love spending time, whether alone or with their friends and reflect their interests."
Decorating a new room from scratch is always fun but decorating a kid's room can be even more so. In a child's room, there's so much more opportunity for fun, creativity, and a bit of whimsy.
To create a space that changes with your child as they grow, we recommend incorporating their favorite superhero/heroine or color in elements that are easy to change like bedding or removable decals. Here are more tips for decorating a space that's both kids- and parent-approved!
FLOORING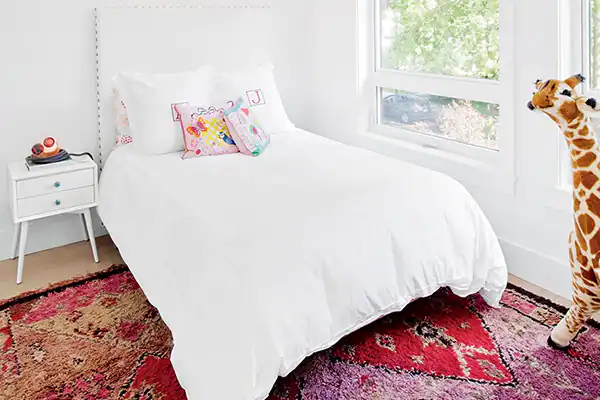 Carpet may seem best if you have an infant or toddler at home because it's soft to cushion knees for new crawlers and frequent toddler falls. But carpet can also get pretty dirty, hiding grime in the fibers of the carpet's pile. In general, hardwood or laminate is a better choice because they are easy to clean and are hypoallergenic. Besides, an area rug is a great opportunity to add a pop of color and provides a soft cozy place to sit on the floor and play.
FURNITURE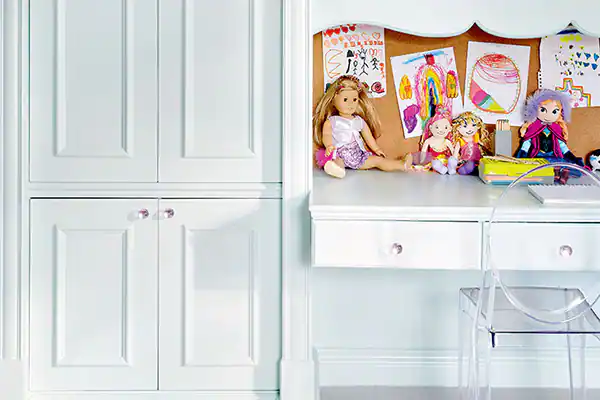 Furniture is an investment, so you want to choose wisely before you spend a lot of money. The best strategy? Look for transitional pieces. it's important to invest in furniture pieces that grow with your child, taking them from toddler to teen. If space is an issue in your little one's room, you can look for multifunctional furniture. As kids' rooms are usually tight for space, using pieces that do double duty like a bed with drawers underneath and storage ottomans that provide a comfy place to sit and read. If you're short on floor space, make use of your walls for vertical storage. Just be sure that all items are secured tightly to the wall. Make sure you have enough accessible storage for toys and books.
SURFACES & MATERIALS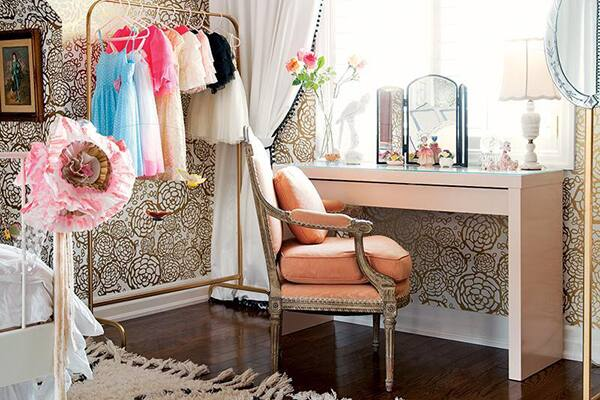 Furniture and fabrics in a kid's room have to stand up to a lot of wear and tear, not to mention crayons. Investing in pieces with durable finishes will pay for itself time and time again. looking for wood pieces that have water-based lacquer or polyurethane finishes, which are low in VOCs and can off-gas. When it comes to fabrics, we recommend synthetic blends of nylon or polyester, which resist staining. We also use indoor/outdoor fabrics such as Sunbrella, which hold up to just about anything a kid can throw at it or on it!
PAINT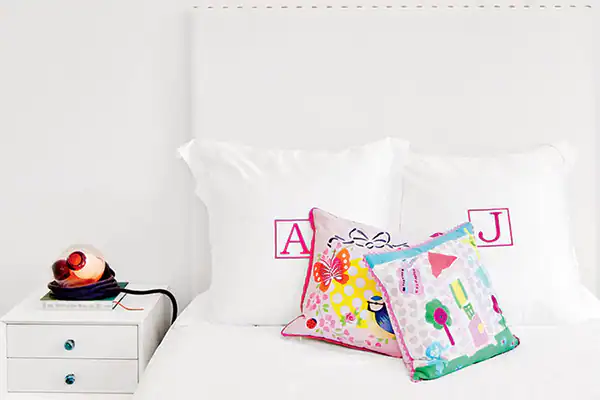 Choosing the right paint means not only finding the perfect color but the perfect finish as well. Many paint companies offer washable flat paints but eggshell paint has the best sheen for painting kids' rooms. Paint companies have a range of products—good, better, and best, Your kids will definitely put your walls to the test and this is a place where it will pay to upgrade to a better quality for more durability, and ultimately paint the walls because you want to, not because you need to.
LIGHTING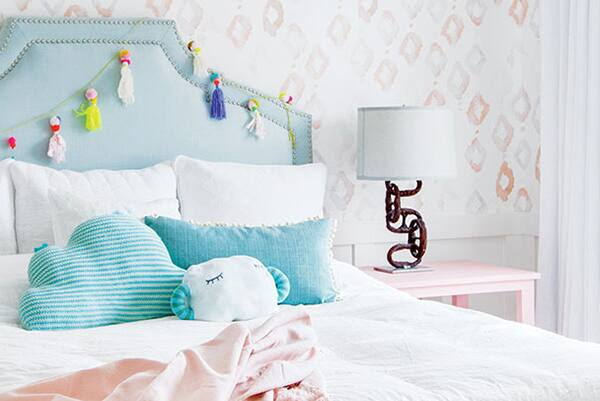 There are three types of lighting in design that work together—general, task, and accent lighting. In most cases, the general lighting is the ceiling fixture. You may have heard about how blue light can keep us awake at night—not something you want in your three-year-old's room. Instead, we recommend looking for bright, natural daylight bulbs that can provide plenty of task lighting. And consider installing a dimmer switch that allows you to control the amount of light needed throughout the day. For older kids who may have a desk in their room, a task lamp is important to keep them from straining their eyes, and a lamp on the bedside table is perfect for bedtime stories.
So, that's our advice, if you are still struggling to decorate your children's bedroom, now you can have a try.
Social Contact:
LinkedIn | Facebook | Instagram | Twitter | YouTube
Media Contact:
>>> Schedule a DEMO!
In
2d & 3d designs, 3d download, 3d lighting design, 3d lighting solutoins, 4k rendering, ambient lights, Attic Design, autocad, autodesk revit, b&b italia, best design platform, CAD design, canadian style, china, construction drawings, CoohomInspiration, CoohomIpad, customized design, cylindo, design ideas, e-commerce design, FinancesOnline, foyr, free software, freelancer interior designer, home decor, home decor styles, hpmkt, interior design ideas, kitchen & bath design, kitchen cabinet, moroso, naver, photo studio, PhotoStudioGallery, planner 5d, Rendering, rendering templates, SketchUp, tropical design
Courtyards can be our spiritual homes. They remind us of our homesickness, love, joy and memories.   01 Dramatic transformation 02 Garden renovation...