"I dare say that more than 60 percent of the exhibitors were Chinese in one of the exhibition stands of the LAS VEGAS Market," said Wu Jiang, the head of COOHOM's cross-border offshore business.
In the past six months, he has been to almost every major international furniture fair, from Maison&Objet in France to HOMI in Italy, to HABITAT in Spain. His gut tells him that the number of Chinese furniture companies is growing.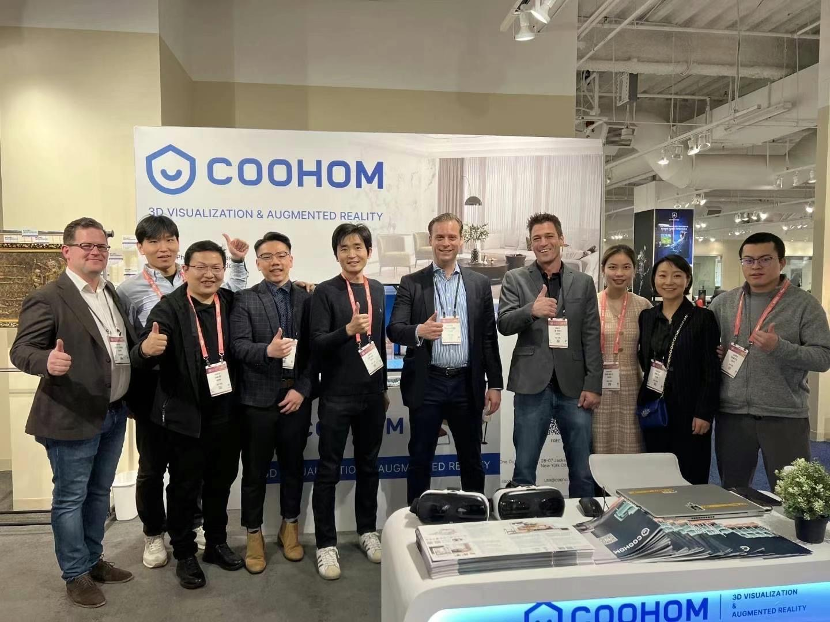 "By mid-2022, the majority of exhibitors at the international furniture fair were foreign-owned companies." Wu Jiang lamented that international trade is rapidly changing. The pandemic has led to the rise of the "stay-at-home economy" and a surge in demand for working from home. Orders for bookcases, lift tables, and office seats come in a continuous stream. However, towards the end of 2022, there was a sudden decline in demand, creating a challenging situation for the industry.
In this context, the overseas expansion efforts of Chinese home enterprises are not only aimed at achieving normalcy in foreign business but also reflect their proactive move in response to competition.
The transformed independent website by COOHOM attracts millions of buyers
Wu Jiang observed that many Chinese home-furnishing enterprises were rushing to fulfill orders. "The previous extensive distribution model has failed, and companies need more refined marketing and operations," he said.
There are four modes of overseas layout for Chinese home enterprises: overseas brand merger and acquisition, joining overseas e-commerce platforms, building independent stations by themselves, and DTC mode (a direct-to-consumer business mode with intermediate links reduced). Many large-scale home furnishing enterprises that adopted an early overseas strategy are now opting for overseas mergers and acquisitions to directly acquire market share in foreign markets.
In the past couple of years, these enterprises have been shifting towards cross-border e-commerce models with lower costs, opting to sell their products through foreign retail malls and e-commerce platforms like Home Depot, Amazon, and Wayfair. However, some enterprises are also exploring self-built independent websites and direct-to-consumer (DTC) models. Overall, these modes of operation require higher supply abilities, shorter delivery cycles, and more effective marketing strategies.
Earlier this year, one of COOHOM's clients, an established cross-border e-commerce enterprise specializing in home furnishing based in Ningbo, completed an upgrade of their independent station display and transaction modes.
Previously, the enterprise's independent station had a 2D layout without specific commodity details or engaging visuals, resulting in low user retention rates. Therefore, the business leaders approached Wu Jiang for assistance, seeking to improve their website's performance with the help of COOHOM's design tools.
COOHOM finds it easy to achieve its goals with its design tools like Cool Show, Photo Studio, and Panorama SDK. These tools can easily convert independent 2D graphic pages into engaging 3D images and dynamic videos. They also facilitate a seamless transaction process for customers, allowing them to browse, add items to their shopping carts, and make payments in an integrated platform.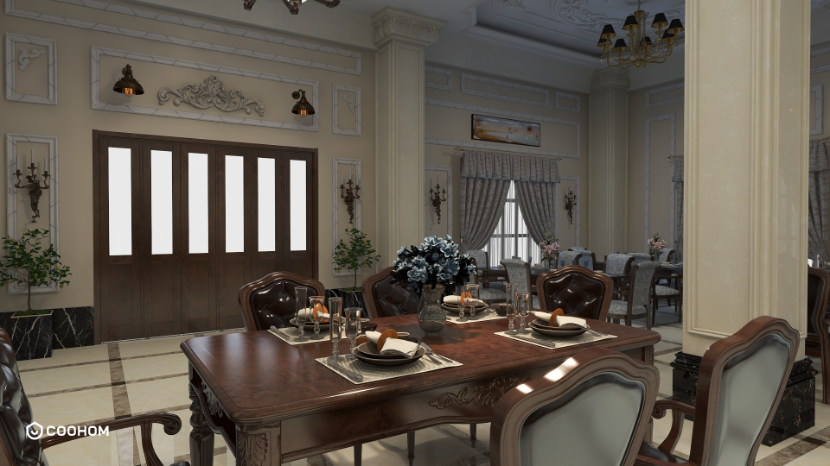 According to Wu Jiang, the website of an e-commerce enterprise in Ningbo has become a top-performing platform for professional buyers since undergoing a "digital transformation" from simply displaying commodities to facilitating transactions. The website now attracts millions of visitors from targeted regions in North America, Europe, and dozens of other countries each month, making it a leader in terms of monthly page views.
New move to cut costs: build a cloud photo studio
In the current context of global inflation, "costs have all gone up" is the most prominent feeling for home furnishing enterprises in this round of overseas expansion.
Certain expenses, such as launching and presenting new products, are unavoidable in the home furnishing industry. With furniture products becoming more fashionable, frequent product updates are required, resulting in high demands for back-end market landing.
Another of Wujiang's cross-border e-commerce clients is using the COOHOM tool's virtual photo studio feature for the North American market this year. Quarterly products, such as sofas, cabinets or beds, are first modeled in 3D and then are uploaded to virtual studios of the company's custom style. Thanks to cloud rendering technology, the studio's light and shooting position settings allow for the efficient creation of a large number of multi-angle new product showcases with just one click.
Virtual photo studio undoubtedly improves the efficiency of furniture product releases. "No need for shooting locations or backgrounds. With the virtual photo studio, you can complete a month's worth of shooting in just one day," says Ye Peimeng, a senior customer success consultant at COOHOM.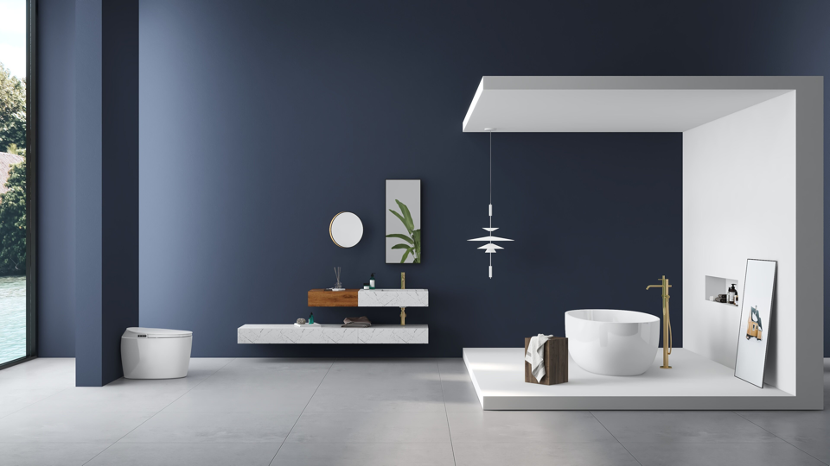 These solutions can be considered as "new tricks" for foreign trade enterprises, and in fact, COOHOM's overseas corporate clients have already widely adopted them. "FOA (American furniture company) is a major user of COOHOM's virtual photo studio function, and the company has a strong digital mindset," Ye Peimeng mentioned when listing client enterprises.
Many domestic and foreign home furnishing enterprises that use SHOPLAZZA to implement B2C e-commerce have also used COOHOM's products, particularly the COOHOM 3D Model Viewer. As a software application that is fundamental to e-commerce "infrastructure", the COOHOM 3D Model Viewer landed on SHOPLAZZA in December last year and supports more home furnishing products to be presented with a 3D display effect.
Rebuilding another "Kujiale"? No, it's reconfiguring a COOHOM.
Let's not forget that COOHOM is also a tool platform for the international market. As a cloud-based design technology force, COOHOM is supporting Chinese home furnishing enterprises to go global and is expanding into Southeast Asia, North America, Europe, and other regions. Over the past five years, there have been continuous iterations and upgrades of technological innovation and localized services.
What's worth mentioning is that COOHOM's journey toward overseas markets is a process of constantly getting closer to its customers. For example, home furnishing enterprises in Southeast Asia are accustomed to using software such as SketchUp and 3dsMax. To facilitate the migration of customer enterprises, COOHOM initially invested in the development of file format compatibility, supporting flexible import of home furnishing enterprise product models.
The characteristics of the local networks in Indonesia and Vietnam made COOHOM realize that the usability of software depends more on the service environment. SaaS software is convenient because it can be used simply by opening a webpage, but in some areas of Indonesia and Vietnam, the slow network speed often causes tool lag, which makes local designers hesitant to use it. To solve this problem, COOHOM established a server cluster in Singapore, which made COOHOM's response speed and stability in Southeast Asia almost identical to that of local software.
COOHOM's latest move is to launch the imperial unit in March this year. Unlike the international metric system, which is based on meters, the imperial unit system is primarily based on feet and inches, with display formats involving fractions, decimals, and various accuracy requirements. The conversion between units is complex (1 foot = 12 inches = 304.8 millimeters).
For a software company like Manycore, it is challenging to meet the needs of more cross-regional and cross-consumer habit home furnishing companies. However, COOHOM has successfully developed this feature to better serve its clients.
"Although COOHOM is referred to as the international version of Kujiale (the Chinese name for COOHOM), they are not the same at their core logic," said Yu Yang, Senior Director and Head of Customer Success at COOHOM, who has been with the company since he joined during the development of Kujiale Enterprise Edition.
Compared to general software, professional tool software needs to deeply understand industry characteristics. "From the perspective of user needs, it drives us to create a new tool platform that is suitable for overseas designers after Kujiale." Yu Yang explained.
According to him, COOHOM currently supports 13 languages including English, Japanese, Korean, and Spanish, and is used by well-known North American home brands such as Ashely and Korean home giant Hanssem, among others. COOHOM designers are present in over 200 countries and regions worldwide. The name "COOHOM" also has a clever meaning. The first three letters "coo" from "cool" in Kujiale (The meaning of "Ku" in Chinese is cool) combined with the first three letters "hom" from the English word "home", form the name COOHOM, representing the initial intention of Manycore to provide digital infrastructure services for global home enterprises.
3D Rendering & Product Visualization to Bring Your Business to the Next Level! Digital marketing nowadays is an inevitable trend,...