Want to create a quintessential Parisian-inspired design but don't know where to begin?
With Coohom, you can easily recreate your own fully customised Parisian Design. We'll explain why at the end of this piece. To create your own design, follow our quick design guide below. Sign up for our 7-day free trial here to try it out for yourself and happy designing.
A Brief Introduction To Parisian Design
The French are all about style, fashion and impeccable taste, this in turn translates over to Interior Design. A quintessential Parisian apartment is often pictured with high ceilings, tall French windows, elaborately intricate carved boiserie and oak floors.
Characteristics of Parisian Design
Parisian Interiors tend to embrace different historical periods with design styles that embody the homeowner's personality and taste, Parisians juxtapose their apartment's architectural elements and bring them to life by selecting furniture styles and decorative objects to create an effortlessly elegant interior.
It often depicts a sense of elegance and refined style combined with classic components and contemporary style. Many French apartments are adorned with charming architecture built in with quirky layouts, preserving the original architecture is vital – to embrace the architectural history of Parisian apartments.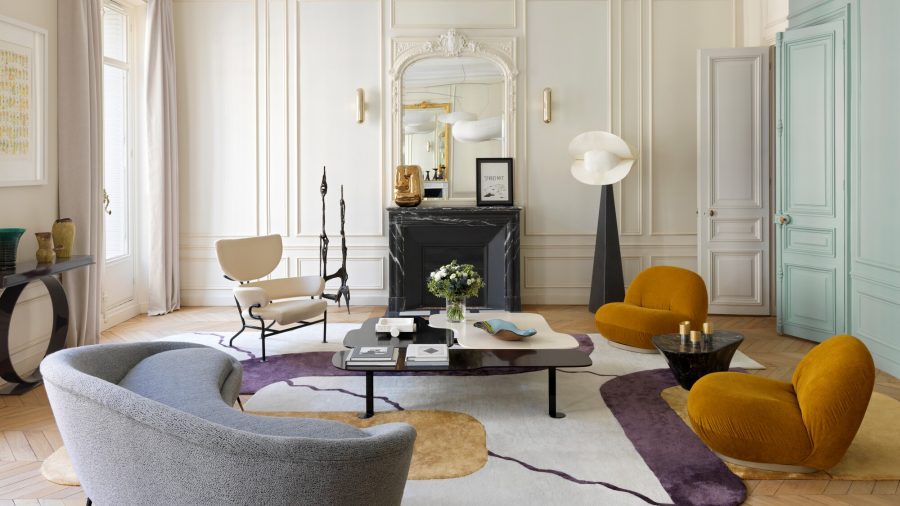 Quintessential Parisian Design Elements
Boiserie
Boiserie, also known as wall panelling is the French term to describe intricate wall panelling often found in quintessential French style apartments. It is one of the most subtle yet defining aspect of this particular trend, often ornately designed and built into French architecture.
With Coohom's plethora of 3D models, adding this quintessential architectural detail is as easy as ever. Simply access the Public Library > Construction > Decorative Walls and select your chosen design.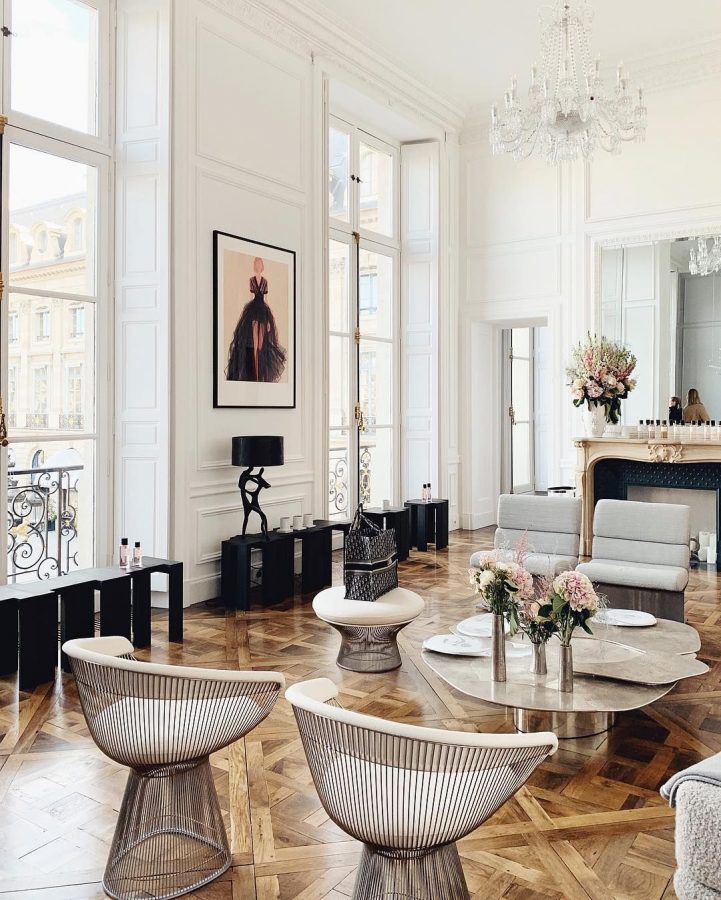 Parisian Furniture & Flooring
Arguably the most important aspect of this trend is the furniture, consider the purpose, finish, durability, colour, style and size. For that modern Parisian vibe, opt for contemporary pieces that bring a pop of colour to the bright white walls; our design showcases a dark navy blue velvet finish to bring a pop of colour and personality to the space.
The most common flooring materials in modern French Interior design are wood and marble.
Marble provides a stylish and sophisticated feel to the space, is durable and provides high decorative properties. Alternatively, wooden floors adapt to all styles and provides warmth to the space.
P.S. With Coohom, experiment with a plethora of flooring options with a click of a button. Utilise Coohom's 'Drag and drop' option to showcase options to your clients in record time.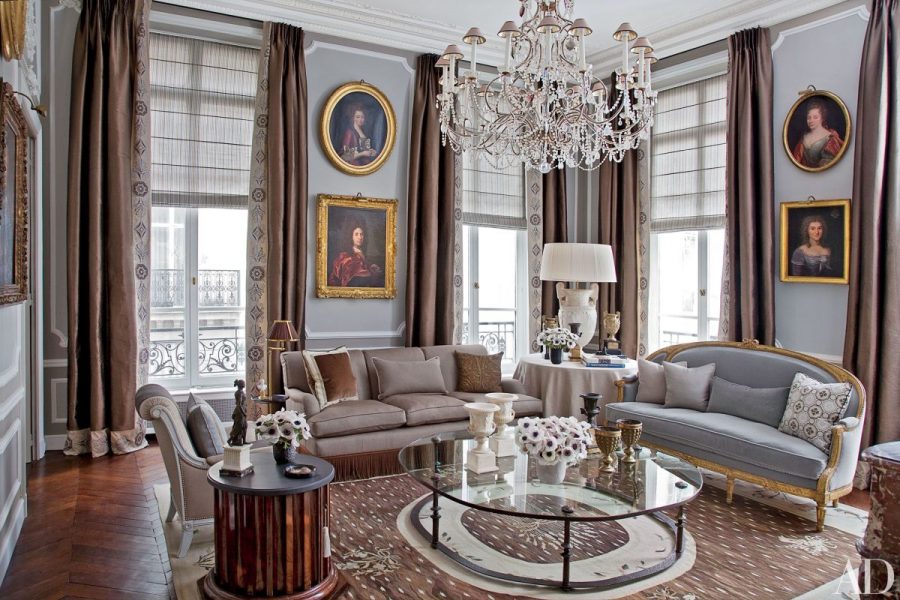 Parisian Decorative Elements & Colour Palette
The most dominant colour found within Parisian design-inspired spaces is bright white. It allows for decorative pieces to take center stage, other colours often associated with this trend is beige, light gray, light blue and light pink.
In terms of decorative items, Parisian themed spaces often showcase at least one element associated with the "Baroque" style; it is characterized as decorative ornaments that is both luxurious and extravagant. Incorporate gilded mirrors, lighting fixtures, art, accessories with gold elements to add instant elegance to the overall design.
Flowers & Foliages
Parisian themed spaces are always adorned with flowers and foliages, it provides a pop of colour and sense of coziness to any space. As a result, we've incorporated flowers and foliages in all our Parisian themed design. Try them out for a fresh look!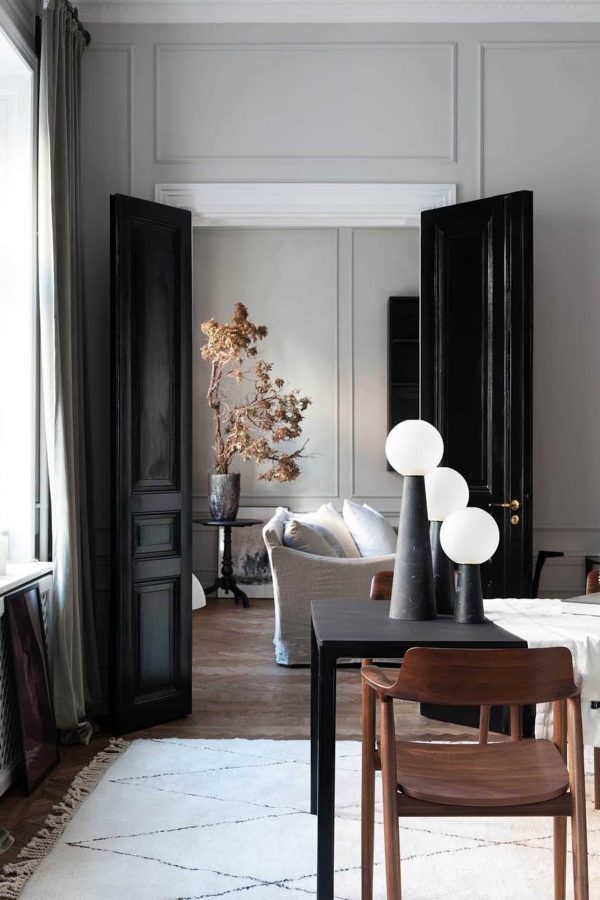 Designing Parisian-inspired Spaces with Coohom
Coohom is equipped with over 300K render-ready 3D models and textures which means there are definitely many of the discussed elements above ready for you to use. Other than that, its user-friendly interface makes it the software of choice by over 4 million interior designers globally. Why Coohom?
Create 3D models and floor plans easily
Drag and Drop function helps cut designing time tremendously
Render 4K quality in just seconds
Collaborate easily between team members as Coohom is a cloud-based software
Social Contact:
LinkedIn | Facebook | Instagram | Twitter | YouTube
Media Contact:
>>> Schedule a DEMO