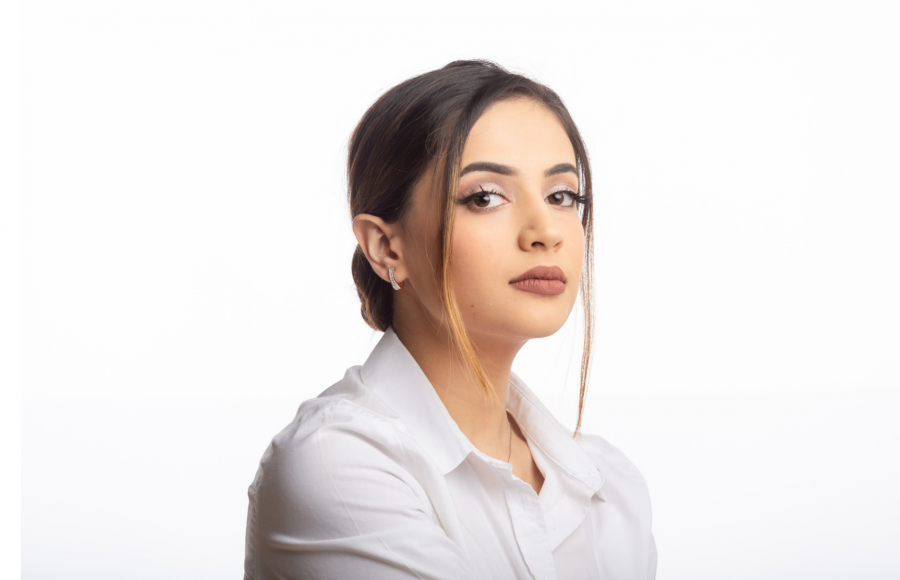 Lubaba Nadim is an interior space designer graduating from Symbiosis Institute of Design who pursued her career as a designer since she was a little girl. Coohom gives her a lot of help on the way to turning her into a great designer.
Who are you? Can you tell me a little about yourself
My name is Lubaba Nadim and I'm an interior space designer based in Dubai, UAE.
Ever since I was a little girl, I knew I had to get into the field of design and pursue my career as a designer because it's what makes me happy. After finishing my high school diploma, I further went on to study Interior Space Design at Symbiosis Institute of Design, Pune – India from 2017 – 2021. I learned a great deal about the design world at uni, but I was also curious to learn more about how I could turn myself into a great designer. By the time I was in my 2nd year of uni, I had managed to get myself a client. One of my friends who wanted to spice up his apartment reached out to me and asked me to assist him with the vision he had for his living room. Moving forward I decided to start freelancing as a designer and by the time I was in my final year of college I had already designed 3 residential spaces in India & Dubai.
After graduating from University I decided to start my own design consultancy called 'The Home Company' and started working towards making it an e-commerce platform that would eventually turn out to be a one-stop-shop for all things home decor & interior design.
Meanwhile, I was freelancing as a designer here in Dubai and started taking up residential design spaces.
What are the difficulties to work as a designer?
Working as a freelance Interior Designer has been a great journey for me, and along the way, I have definitely faced a few challenges which eventually led me to become a better designer along the way. Starting out as a freelancer, in my experience, one of the biggest challenges I faced was multitasking and looking into the various aspects of being a designer.
When I am executing a project, It is not just about the design, as, my work does not end there. It begins when a client is interested in getting their space designed but there are several learning experiences as we move forward.
As a designer, I have to be able to wear different hats, all at once. I learned a great deal about relationship management with stakeholders, the team executing the project (such as carpenters, electricians, etc), and designing a space that not only looks aesthetically beautiful but also provides ergonomic value that would eventually lead to the end user I.e. the client's life easier and managing finances & budgets that the client has set for a particular project.
I'm constantly learning in this field and each individual project, it teaches me innumerable qualities that will help me improve myself as a designer.
How and when did you start to use Coohom to design instead of other software?
I was in my third year of college when Covid-19 hit the world and paused everything for us.
In the university I studied, professors focused on teaching us software such as Sketchup, V-ray & 3DS Max for our renders & 3D Drawings.
When Covid hit us, I had to come back to Dubai and live with my parents for about 10 months before my university resumed again physically. While I was at home, we had virtual classes but in my opinion, in the field of Interior Design, there's not much you can learn through a computer screen as compared to being out there in the field and having hands-on activities.
I was constantly exploring new software because I was not very happy with how my 2D plans looked even after I rendered them. The software we were traditionally taught was extremely slow, took really long to create renders, and required a lot of time and energy for simple tasks.I was experimenting and trying to learn different software that would be faster than the software I was taught and still provide a realistic 3D Render. Then I stumbled upon Coohom and gave it a try. I started off by creating a random floor plan and exploring all the different finishes, furnishings, and lighting options it had and I was really impressed by it.
Eventually, Coohom became my go-to software and I even shared it with my professors at College because I knew it would provide great value to other students as well. With the help of Coohom, I was given 3 different awards for my concept & innovation for my degree project and my 3D Design skills.
How is Coohom helping your design work?
Coohom is a very underrated interior & architecture software, in my opinion. As a designer, It is my job to try and get as many clients and deliver a space to them exactly as they have imagined it. Coohom assists me with that. When I first meet a potential client, I meet with them to understand their requirements and figure out exactly what it is they need for a space. After creating a design brief with a mood board, and inspiration board and finalizing the color palette, I head straight to Coohom in order to show my client what their space will look like, once my team and I have finished executing it. My clients are extremely impressed with the designs and a lot of time, unable to believe that the pictures & videos I share with them are actually rendered. Coohom helps me land more clients, and it provides me efficiency that no other platform or software has been able to till date. My clients trust my work and talent because of the potential I show them through the renders I create for them using Coohom.
What is your favorite feature in Coohom?
I love the fact that I don't have to wait for hours in order to render a single image for a project. I can create a fully designed floor plan with all the details required in about 5-6 hours and share it with my client.
I believe I have a very unique design style, and I love the fact that Coohom has so many different options and design styles to choose from, all located within the software itself. This way I can mix and match so many elements and create a space that is as unique as my client.
I can create a Modern-Contemporary bedroom, or I can create a traditional country-style living room and I don't have to spend too much time rendering each and every single item required in a space one by one. I love that I have so many different options to choose from whether it comes to the finishing of the walls, furnishings, or even various types of lighting installations.
Lately, I have really been enjoying the video feature in Coohom that allows my clients and me to virtually walk around the space and see every angle and perspective so well.
What is your typical workflow with Coohom?
As I mentioned earlier, the first thing I do when I meet a potential client is meet with them in order to understand their requirements, followed by creating a design brief with a summary of everything in order to make sure my vision is aligned with my client's.
The next step for me is to start working on the floor plan and create a design for the space I'm working on. I typically go about designing the space, keeping in mind the inspiration board, and trying various elements that would complement the space. For example, My client's requirements are to create a master bedroom design with a neutral palette and create a comforting and cozy space with lots of natural elements throughout the space. I will use Coohom's multiple options and see how I can come up with a design keeping all these requirements in mind. I'll start designing by looking at the walls and the ceiling, adding a wallpaper or specific color on one of them to see which fits best. Then I will start adding the furniture pieces into the space, such as the bed, bedside tables, TV unit, storage, additional seating, closet, carpets, etc. My final step would be to add lighting throughout the space and other necessary finishes that would add elements of the chosen design style to the space. Finally, I'll render the images and once I'm happy with everything, such as the natural lighting, the finishes, the color palette, etc, I will download the images and videos and share them with my client.
Can you share with us some of your experience on how to improve your skills with Coohom?
I believe I'm still learning a great deal myself with this software, and the more time I spend creating renders, the better I get. With every project, I am able to learn new features and techniques to create designs. In my experience, I have been able to create some beautiful custom pieces on Coohom, depending on my client's requirements. One custom design I created was a walk-in closet for a young girl in Mumbai that wanted to convert an extra room in her house into the closet of her dreams. I used Coohom to come up with a custom-designed closet space for her, by using the Custom furniture feature and I was able to edit the finishing, door & handle style, skirting, tiling, and flooring along with the storage units. I created an island in the center of the space by using the feature for her jewelry and makeup unit and added custom mirrored sliding door closets that would make her space look and feel bigger than it was. Lighting plays a huge role in how a space will finally look, so being able to edit and create lighting (natural or accent & ambient) at the time of rendering space is a great feature for my projects. I typically use the Warm Day Light option in custom lighting at the time of rendering and edit the lighting pieces, the sun's light direction and brightness along with many other characteristics.
What are your expectations of Coohom?
I hope to be able to create even better designs and become the best designer I possibly can be. My expectations from Coohom would include being able to edit and further customize the readymade pieces already available on Coohom. For example, let's say there is an armchair in the Black color I choose to add to my design. It has stainless steel finished legs and a very modern finish. I hope that the Coohom team can add options for me to edit that and further customize it, As in be able to change the color of the fabric of the chair, or change the stainless steel leg finish to the wood. Similar to what we have available on SketchUp. If that option were added to Coohom, I don't think there can be software better than Coohom for the interior & architecture industry.
Please share your 1-3 projects with us?
Social Contact:
LinkedIn | Facebook | Instagram | Twitter | YouTube
Media Contact:
>>> Schedule a DEMO
In
2d & 3d designs, 3d viewer, ambient lights, b&b italia, best design in america, china, construction drawings, cylindo, enterprise solutions, european, foyr, freelancer interior designer, hpmkt, image search, inetrior design, interior design, interior designers, kitchen & bath design, rendering settings, shopify design app, SketchUp, space decoration, VR, wooden beam
The future office design will focus more on people, and Woods Bagot's concept of human-centered architecture is a vivid reflection of this trend....